Is Copilot the best AI companion out there? Help us find out by answering a couple of quick questions!
Many OnlyFans video downloader tools are available online. They come in handy when you want to watch videos on the go and lack proper internet connectivity. However, only a few work as required.
I tested many video downloaders and apps in search of the safest and most efficient ones. In the end, I've hunted down 5 apps you must check out if you're looking for a bulk OnlyFans downloader. Ready?
Best OnlyFans Video Downloader Apps and Extensions
1. macOS Screen Recording Tool
If you need to download an OnlyFans video and watch it offline on a Mac, you can use the native screen recorder. You can summon this tool by pressing Command + Shift + 5 or using the QuickTime Player app. This app records both the desktop visuals and the system audio. As it lets you choose the recording area, it's easy to avoid unwanted website elements.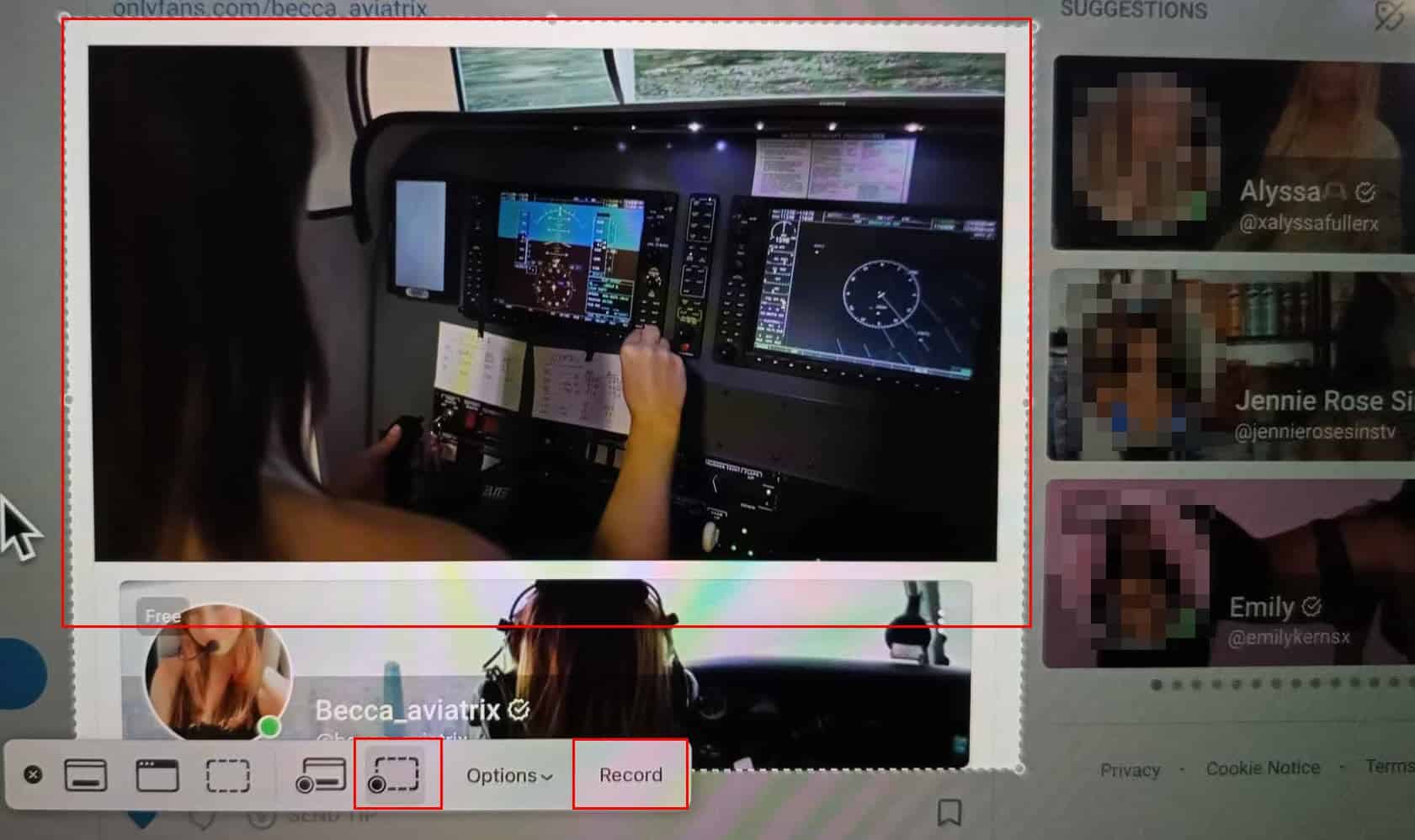 Since this is a built-in feature, you don't need to install third-party applications. Still, remember your account might get blocked if OnlyFans detects that you're downloading content off its platform. Screen recording with a native tool won't get you into trouble, though.
Pros:
Completely free OnlyFans video recording tool
Selective screen recording feature
Safe to use
Cons:
Not a dedicated video recording tool
Can't create a history of downloads
Can't schedule downloads
2. iOS Screen Recorder
Your iPhone and iPad have a built-in screen recorder app since iOS 11. So, you can use the Screen Recorder tool available on the iOS Control Center to record the video. It also captures system audio. Best of all, it's free. You don't have to buy video downloader apps from App Store.
Pros:
Record videos with ease
No need to install any third-party apps
Completely safe to use
Cons:
If you don't switch to the full-screen player, the recording will capture unwanted website elements
Not a dedicated video downloading tool
I used SnapDownloader thoroughly, and it's my favorite OnlyFans downloader for Windows PCs. SnapDownloader is also available for macOS-powered devices. That said, it's also helpful for downloading content from other platforms.
SnapDownloader supports high-resolution downloads at 8K, 4K, 1080P, and more.  Before you hit the download button, choose the output file type from Video, Audio, and GIF. The best part about this tool is that it lets you schedule bulk downloads from OnlyFans.
Pros:
Free 48-hour trial with full access to the tool
Downloads videos from almost all websites
Automatic video downloading scheduler
Cons:
The Search tool sometimes fails to download videos
The free trial is only for a couple of days
If you want a free OnlyFans Chrome Extension to download videos, check out Video Downloader – CocoCut. It's a free and straightforward tool that anyone can use to download all sorts of video content, including OnlyFans posts.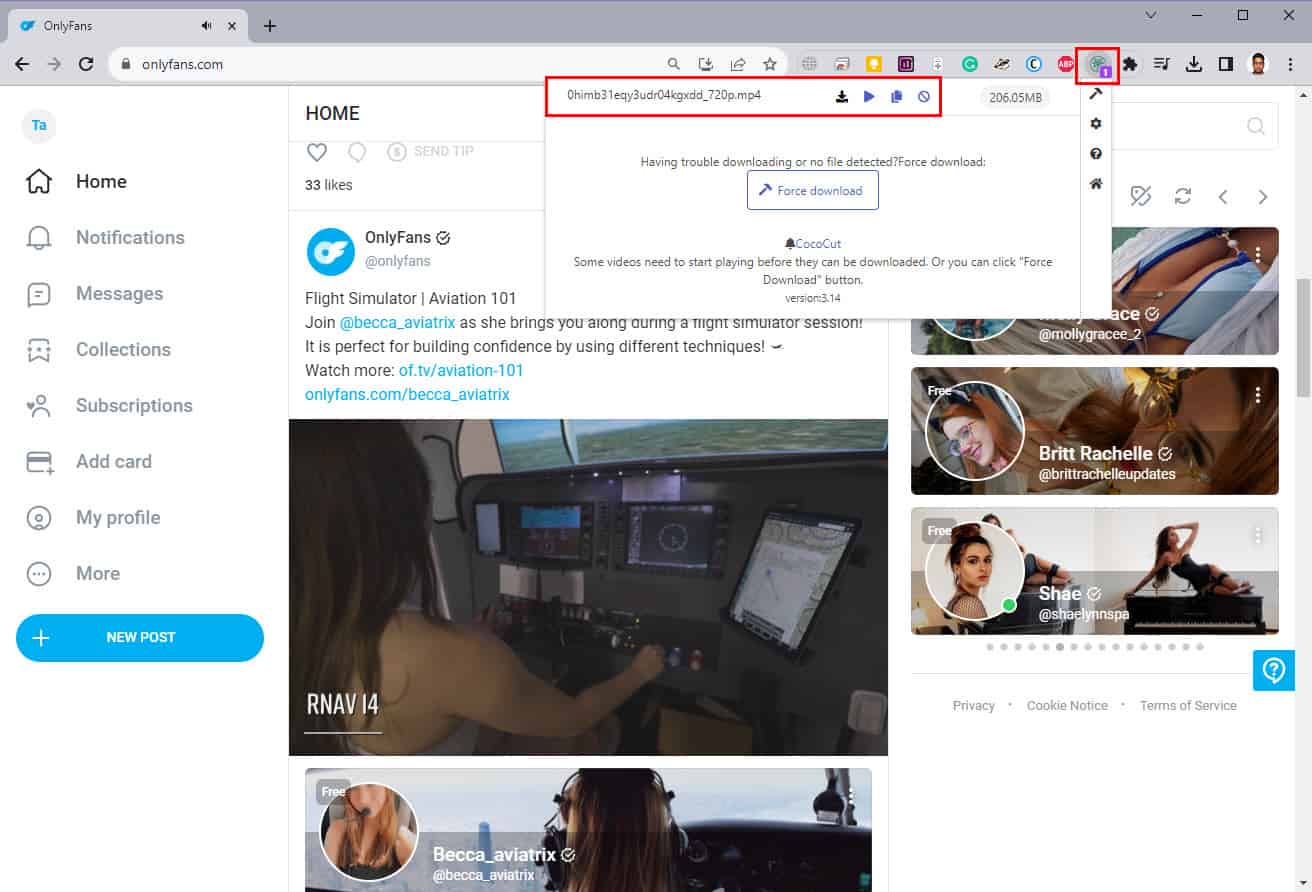 You can modify the final file output by changing container types to FLV, MP4, HLV, F4V, MOV, WEBM, MKV, and more. If you need to split the audio from an OnlyFans video, you can do video-to-audio conversion on the extension directly. You can then get music files in M4A, WMA, MP3, and other formats.
Pros:
Truly free Chrome extension for video downloading
Also available for Edge browser
One-click OnlyFans download tool
Cons:
Sometimes it can't properly detect videos
Slightly complicated video-to-video and video-to-audio conversions
Video DownloadHelper is a free OnlyFans video downloader for Firefox. It's available on the Firefox Browser Add-Ons marketplace. It also lets you download videos from other online video-sharing platforms like YouTube, Vimeo, and more.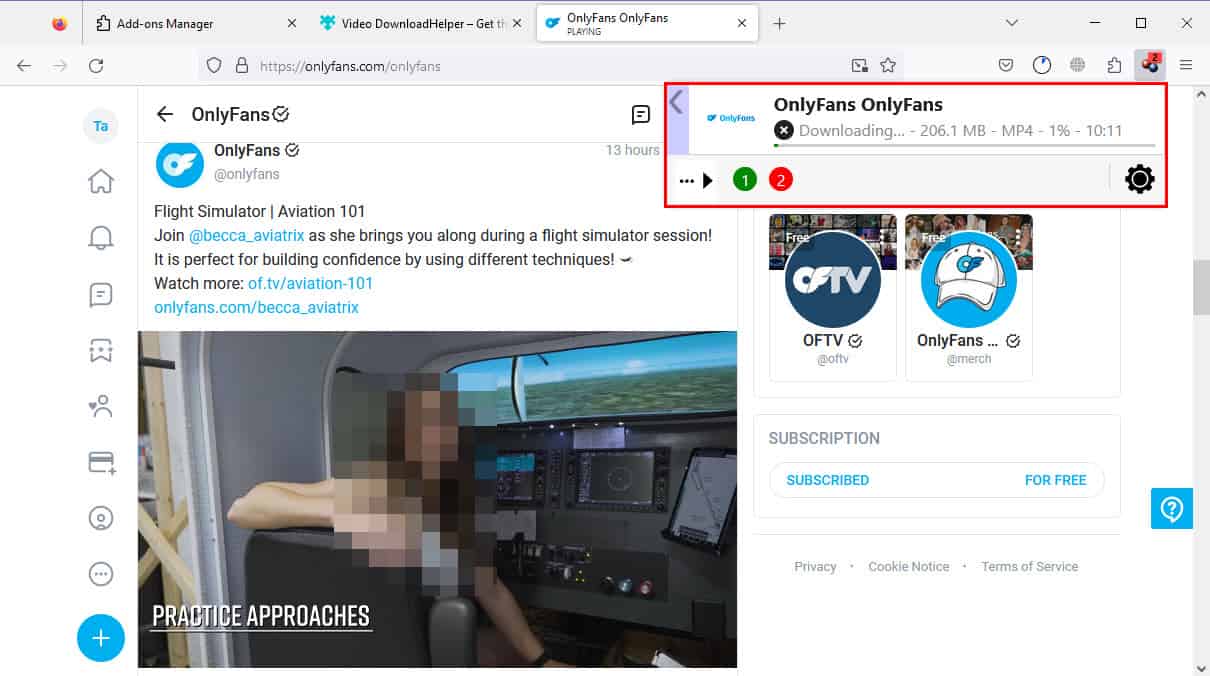 The tool efficiently grabs the video source URL from any website, including OnlyFans. However, you must click the play button once so that the tool can capture the link. Then, you can click the Video DownloadHelper extension icon on Firefox and choose the video you want to download. The process starts instantly.
Pros:
Free OnlyFans downloader
Works as a browser extension
Minimum setup needed
Cons:
Occasionally misses capturing video URLs
The user interface is outdated
You may also be interested in: How To Get OnlyFans Videos Without Subscription
FAQs
Is It Legal To Download Videos From OnlyFans?
According to its policies, it's illegal. The OnlyFans Terms of Service state that you shouldn't download any content published on the platform. You also shouldn't reproduce, modify, reupload, or use it for public viewing without written permission.
We don't condone downloading copyrighted content from the internet. You should always seek the creator's permission before downloading their videos. Also, you must refrain from using these videos for commercial benefits or sharing them with friends on WhatsApp, Telegram, Messenger, etc.
Is It Safe To Download From OnlyFans?
It's safe to download videos from OnlyFans for personal offline consumption if you use the tools I've recommended. However, if you can connect to the internet to watch videos, do so. Don't frequently download them from the platform. Otherwise, OnlyFans may block your account and file complaints against you under copyright infringement laws.
How Do I Download Someone's OnlyFans Content? – A Short Step-by-Step Guide
You can use an OnlyFans downloader like the YT Saver Video Downloader app. Here are the steps:
Download and install the YT Saver app.
Open the app and click the Online tab.
Click on the OnlyFans card to access the website in the YT Saver app.
Log in with your OnlyFans account credentials.
Find a video you want to download.
Start watching it, and the Download button will show up.
Click that to download the OnlyFans video on a PC or Mac.