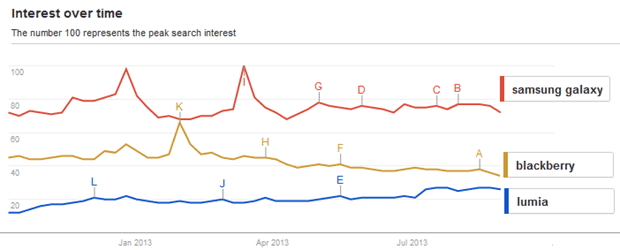 We have seen a steady increase Nokia Lumia sales over the last 3 quarters, but it is difficult to know if this is due to a few hit handsets, which will result in sales dropping as they age, or if Nokia's Lumia range itself is winning the trust of buyers, making it easier for each subsequent release to pick up sales.
Google Trends gives us a good look into what is on the mind of the general population, and as can be seen in the graph above, based on search volume, over the last year Nokia's Lumia brand has been seeing steady improvement when compared to the Samsung Galaxy brand, with search interest more than doubling.
This can be compared to Blackberry's fading brand, with interest more than 20% down since last year.
Google also allows one to view geographical interest over time .
The graphic matches data by analysts companies like the IDC very well, with Latin America for example turning a dark Blue recently, matching the recent news that Windows Phone is now the second most used mobile operating system there.
It also shows increasing interest in Europe, Africa, India and South East Asia, with regions such as USA and China showing slight improvement, but clearly still far from the brand's strongest markets.
The main take-away message is I believe that the brand continues to have momentum, and that we can therefore continue to expect good sales for Nokia's next quarterly report.
Do our readers agree? Let us know below.
Thanks Nishy for the tip.