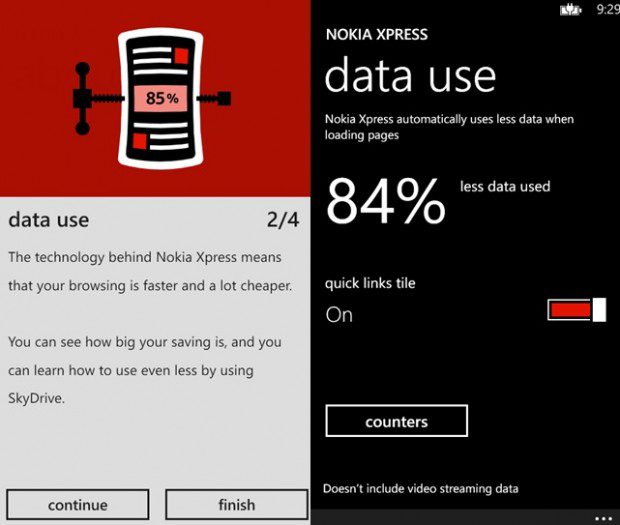 Nokia released the Xpress web browser beta with server based compression technology to save data usage back in October. Later they updated the app with new features in November and last week they released the final version of the app.
App Description:
Nokia Xpress is a content discovery app that connects you to the internet in an entirely new way. This cloud-powered app is a fast and fun way to find and enjoy interesting web content while saving time and money. The Xpress platform compresses data by about two thirds so you use less of your data plan and save battery charge. Connect with the latest stories & content while automatically optimizing for a better experience and lower data usage. Nokia Xpress: Save more. Enjoy more. Do more.

Highlights include:
• Magazine – Store and read articles, news blogs and more in a clean, easy-to-read format
• Monitor Data Usage – Data usage and savings are reported as a live tile on the start page and via a detailed dashboard in the app
• In Page Search – tap on a word and discover related content with automatic contextual search. Currently supported by Wikipedia, Bing and YouTube.
• SkyDrive – easily save and store videos and images to SkyDrive without using your precious data plan
• Translations – One click language translation is available for virtually any web page.
Download the app for your Nokia Windows Phone 7.x device here and 8.x device here.
Thanks to Truitt dill for the heads up.