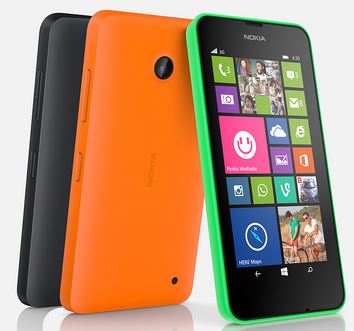 When Microsoft announced Windows Phone 8.1, Nokia also announced the first devices running the new operating system, the affordable Nokia Lumia 630/635 and the high end Nokia Lumia 930.
Contrary to what many people expected, Nokia decided to launch the Lumia 630 and 635, two low end devices, first. Basically both devices are the same, the only difference are the LTE and DualSim capabilities. Nokia was kind enough to send me a Lumia 630, the single-SIM device without LTE, for a test, and for how well the Lumia 630 did  you can read here after the break.
Besides being the first Windows Phone 8.1 handset, the Lumia 630 also is the first device to come with Nokia's new box. The package still is kept very simple but looks more modern. Inside, however, nothing changed and you will find most things you would expect, except a headset and a USB cable, which are not inside the box. Considering this is a low end device with a relatively small price tag this may first seem like a logical step, but people who already cannot afford a more expensive device may find it difficult to buy themselves a headset separately – Unless they buy one for $10; but then, although not being the best, Nokia's included headsets normally sounded way better than these. And a short USB cable really should have been added, but maybe this is a new way of environmental protection.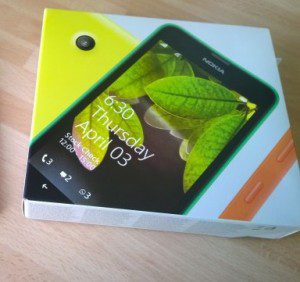 Besides this, the device itself does not look or feel low-end in any way. The removable back cover looks and feels as if the handset had a unibody. Nothing crunches  and it fits so perfectly that there is much pressure needed to take it off. Nokia always had a strength on this, and already the very low end Lumia 520 kind of had this look and feel, but with the 630 the company has outdone itself. On older devices the back cover was not recognizable as such at first sight, but with a little pressure on the corners or the edges (or sometimes because it did not fit 100% perfectly and therefore had some small gaps) the cover got off a little bit and the unibody-feel was gone. Then, the 630's cover fits so well, this won't happen. In fact, it is so solid, to take it off, you have to hold the upper two corners and press the camera very hardly. Of course I cannot exclude that there are some devices with a not that perfectly fitting, but my trial device, compared to the 620 I have at home and the 520 I tested once, really felt more solid and durable.
The material used is no exception. It does not feel like the polycarbonate used for example for the Lumia 1520 or 720, actually it does not feel like polycarbonate at all, but the durable and thick material feels very nice in the hand, and thanks to the soft corners yet sharp edges the phone also is very firm. In terms of built quality the Lumia 630 really is a device exceeding the expectations many have for a low-end handset.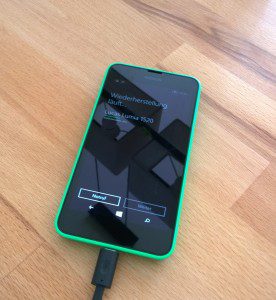 Even with the design Nokia did not compromise. While being a logical evolution from the Lumia 620, the design brings a fresh and new look to the Lumia family. A simple, black surface of Gorilla Glass 3 (when looked at frontally, the screen is not visible and the surface is a simple black rectangle with round corners) surrounded by a simple line, optional in green, orange, yellow, black or white. Some may say it looks like an iPhone 5C, but well, doesn't the 5C kind of look like a copy of the Lumia 620? Anyways, there is one thing not really well thought: The design is very inefficient. Above and below the screen there is very much space wasted. Considering the Lumia 630 has on-screen buttons, below the screen some space could have been saved – or simply capacitive buttons could have been placed there.
The back is kept very simple too. A simple block of color which looks like its been mill-cut out of a bigger block, with a very light lettering saying "Nokia" and little black dots for the camera and the speaker. That's it. It is a really beautiful way of designing a phone in my opinion.
But now, the screen. The Lumia 630 does not have an ambient light sensor, which came out to be an issue. Through the action center the screen's brightness can be adjusted manually, and the three adjustable presets "light", "medium" and "high" were enough to have a good brightness in every lightning condition ("low" for the night, "medium" for the day and "high" for direct sunlight), but in terms of battery life an ambient light sensor would have been better. However, what I found very positive was the sunlight readability. It is not comparable to a Lumia 920 or 1520, but I was perfectly able to read texts and webpages – Only photos lost on color and details.
In general in normal light, the screen can be called good. Colors are not washed out and can be set from natural to vibrant (I personally found "vibrant" to be the best looking) and the contrast is great. The black is very deep and grey looks like grey and not red-ish (an issue some phones have with dark grey colors). The resolution of FWVGA on a 4.5" screen is unarguable low. Maybe not too low at all for a low-end device (here a smaller screen may be appreciated), but there definitely is a reduction in terms of sharpness. Fonts are still readable but there are sharper screens out there, of course.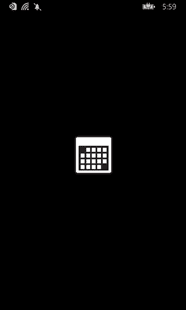 Anyways, the low resolution comes with a big advantage: Performance. The same hardware but with an HD screen would look nice, but would also be slower. The Snapdragon 400 does a great job making Windows Phone run nicely! As everyone would expect it is buttery smooth, but more than this, speed came out to be a huge surprise. For a low-end device the Lumia 630 is lightning fast. It is on par with, maybe even a little bit faster, than the high-end Lumia 920. That, however, only is true as much as Windows Phone 8.1 allows it. If slow core apps annoyed you on the preview of Windows Phone 8.1 already, they will do too on the Lumia 630, although for this one the software has already been optimized. Yes, the built version is older, but the software has already been optimized for the Snapdragon 400 and the 630 also runs a valid firmware; both which are not given on other phones, so on these the performance issues could be forgiven, but on an optimized device they are more weighty. Also there is no reason why a new low-end device should not have fast and responsive core apps when last year's Lumia 620 and 520 had them already. Fortunately, besides having a (too long but actually there should not be any) splash screen the music app is actually usable now. Occasionally there are some small lags in scrolling or the animations, but content loads quickly. There is still room for improvement, but really, the performance is good, ironically unlike on the (normally) much better performing Lumia 1520 which still faces lags and stutters, but that is a different story. Additionally, the software running on the 630 is different in detail to the one available as developer preview; for example there are USB settings and the WiFi and Cellular notification icons indicate ingoing or outgoing data.
Because of the small RAM you also will not be able to heavily multitask or game. When there are some more apps open in the background, the phone will get slower (but fortunately not laggy), which, however, is absolutely alright for this kind of phone – or more or less any mobile phone in general. And while almost all basic games will run without any issues, and even some higher-end games (e.g. Asphalt 8) will be playable, you cannot play games like Modern Combat on it. Then again, this is not expected from such a device. If you want to play heavily, you should get a high-end device, best a phablet anyways, and if only games are important to you, Windows Phone is not the platform to chose after all.
With great performance comes… short battery life?
The Lumia 630 sports a 1830mAh battery, which is alright for a 4.5" device and can even be considered "good" for a €159 phone. And in fact, battery life is a strength of the Finnish low-end device. If you got used to the battery monster 1520 you surely will not be impressed, but the 630 makes it through the day, at least on 3G networks. My trial device did not sport the LTE feature and in the time of my testing period I always needed to plug it in at the end of the day, and plugging in should be understood literally as you will not be able to charge it wirelessly. Since Nokia really wants wireless charging to prevail they eventually could have built it in; I am sure it is not this expensive in production. Also people using the LTE variant would appreciate this feature much more for sure, since LTE consumes more power and in this case, the battery could be a little bit too small – but this is only speculation, although very likely.
All in all the software seems to be optimized very well. The phone always runs smoothly and is mostly fast, and still its battery will not let you down that quickly. Also there are about 250k apps available for download. That is still less than on other competing platforms, but not by too much. The app gap is not entirely closed yet, but almost every important app from other platforms can be found on the Lumia 630 as well, and when a new app gets announced, one can be pretty sure it will land on Microsoft's mobile platform as well, though probably later. Windows Phone established in the market and therefore developers can not or should not ignore it, which is why most new apps will be written for it, but this still cannot be said with 100% certainty. And as long as it can't be, Microsoft needs to keep up.
However, apps are not everything, and the OS running on the Lumia 630 has some nice features. The long awaited notification center is finally there, although its implementation could have been better. The option to swipe from the top is unarguable nice, but much better – and much more fitting for Windows Phone – would have been a third home screen showing all notifications, whether they have been read or not. This way the start screen would remain the main screen for everything new going on, but if the last notifications that arrived on the phone were wanted, the third page would give more than enough information.
Going further with receiving information on Windows Phone, there is also Cortana. The intelligent digital personal assistant tracks all the users interests and everything important (like flight information for example) and lets the user know if there is anything going on. This means she will alert you if your flight has been delayed, and of course she can also give you the latest news on actual topics; you just have to ask her. Cortana can also remind you of things based on location, time, or the next time you call someone, and 3rd party apps also have access to her, which means Cortana can for example tweet something for you if you wish, or she saves an appointment for you. Besides this, Cortana also is an speech recognition service. Whether it is a simple web search, over a quick information to just small talk, she will understand and give an answer, often with a sense of humor. But there is one thing: So far the Bing powered personal assistant is available in the U.S. only, but later this year it will come to the U.K. and China as well. Other countries need to be patient a little longer.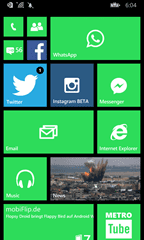 What Cortana cannot tell you, and also what she actually can, live tiles will do. Whether you want to keep track of a certain person's tweets, or the game you have been betting on; almost everything can be pinned to the start screen – Not only apps, but also elements from within these app. This way you can see everything at a glance which is, and always had been, the spirit of Windows Phone. Additionally, if you want to see even more at a glance, you can make the home screen "three-tiled" and have even more Live Tiles on the start screen. Also Live Tiles can be arranged just as desired so every phone is different and simply personal. And to make it even more personal, the user now with Windows Phone 8.1 can set a wallpaper floating behind the tiles.
But these are only some of Windows Phone's features; there is still much more left to say. For example Microsoft Office mobile is preinstalled and totally free to use and there is 15 gigs of OneDrive cloud storage, which probably business users will find attractive. And for the "normal user" there is the Facebook and (soon) Twitter apps which integrate into the system and the contacts application like they do on no other platform.
Besides all the basic features the Lumia 630 also offers some more. With the HERE suit of apps, you can navigate through the world, for free and completely offline. While the maps might not be the most current for all states in the world (in this case Bing Maps can be used, they are often more accurate) the driving navigation is the best you will find preinstalled on any competing smartphone, and again, it is entirely free. Also on board is Mix Radio, a music streaming service either for free or in premium model for €4 per month. You can listen to predefined so called mixes (basically they are playlists) like the charts, or you create an own with up to three artists mixed up. And last but not least, Nokia also gives you a bunch of photography apps, once again for free. With Nokia Camera (or Nokia Smart Camera as a separate app) you can take pictures and change or erase faces or objects later on, and with Nokia Cinemagraph .GIFs can be created. For later editing, Nokia Creative Studio offers many features and does a great job. Here it may become confusing for new users, however. There is the standard camera app (simply called "camera") which is the default. Then the user can also download "Nokia Camera" from the store, and set it as the main camera app, but since this is a Nokia phone, why does it not come with it preinstalled and with the Microsoft camera app disabled? Then, Nokia also did not seem to use Microsoft's guidelines for building apps. As good as Nokia camera is, its photo roll is different to the phone's gallery app. It looks like Nokia wanted both to look the same, but failed (for example look at the animations: inside the Nokia camera photo roll they look like cheap copies from the ones in OS itself). This may not be this disturbing at all, but I noticed it and found it to be strange.
Anyways, all these photography features are useless without an usable camera. And here Nokia really cut some corners. On the other hand with a better camera the phone would have become more expensive, so it is ok. You can easily capture nice events, but you should not expect high quality shots. Not even in day light, and eve more not in low-light, not only because the phone does not even sport an LED flash, but also because of the small sensor and the lack of an optical image stabilizer. But anyway, these two can be mostly found in much more expensive smartphones only.
Pictures are very soft and unclear, so there is also a clear lack of details. Colors are unnatural and washed out, also too cold. The focus does an acceptable job focusing specific objects only (especially with tap-to-focus – look at the flowers in the foreground and then in the background in the third picture). That said, the camera's speed really surprised me. Focusing works quickly and shots are made without delay. But since there is no dedicated camera button, the camera app cannot be launched quickly from standby. The only way to do so is adding the camera shortcut to the action center, which can be pulled down from the top even on the lock screen.
Can you hear me?
A smartphone is still a phone, and a phone is not a phone without a phone function. Legit, isn't it?
With the Lumia 630 I reliably had a network connection, and not only this, it was actually good. This of course not only depends on the phone but also on the provider, but it seems like I always got the maximum of connection possible.
Then the calling quality was also excellent, just as we expect from Nokia. The opposite sounded very clear and realistic on both sides and the loud speaker does a good job, either on calls or music. When it is turned too loud it becomes quite rasping, but on normal volume it sounds clearly. It is a simple phone speaker, and by far not like HTC's BoomSound, but basically it is ok.
And as this article comes to an end, there is not much left to say, but some things still need to be pointed out:
Unfortunately this phone has no equalizer. This is a big minus actually as you have to hope the headphones you buy sound good connected to this phone – which makes the fact that there is no head set inside the box even worse. Also not on board is Nokia Glance Screen, but you have to cut something if you want to build an this affordable device. And at last, besides not having an ambient light sensor, the Lumia 630 also misses a proximity sensor. This means the phone cannot detect if its being held to an ear or is inside the pocket. The first did not come out to be an issue at all as the touch-recognition-alternative did a great job. I never had issues of accidentally pressing something on the touch screen when calling. Then the second, however, led to some weird behavior when push notifications came in. Normally on Windows Phones the screen turns on automatically when a notification comes in, except when the proximity sensor is covered (normally means: the phone is inside the pocket); on the Lumia 630, the screen sometimes turns on, and sometimes it does not. Without having super sensitive touch like all higher ranged Lumia devices do, the probability of the touch screen being interacted inside the pocket when the screen turns on by itself  is smaller, but not zero.
At last there remains to say, the Lumia 630 was a fun to use device over the whole testing period. I had no issues with it even though I am calling a high-end device my personal phone, well, at least not more than I am having with it already. For the price of €159 you have to expect some corners cut, but besides the camera, there are no bigger ones. With the Lumia 630 you get a very well performing low-end device with a good screen and respectable battery life, packed full with extra software some others normally would have to pay for.
Specifications of the Lumia 630
| | |
| --- | --- |
| Seize; weight | 129.5 x 66.7 x 9.2 mm; 134g |
| Display | 4.5" at 854 x 480 (221 PPI), Nokia Clear Black IPS-LCD; Corning Gorilla Glass 3 |
| Battery | 1830 mAh |
| Processor | Snapdragon 400, 1.2GHz Quad-Core |
| RAM | 512 MB |
| Camera, resolution | 5 MPX |
| Camera, sensor seize | 1/4" |
| Wireless | Bluetooth 4.0; WiFi b/g/n; Optional: LTE or Dual-SIM |
| Storage | 8 GB internal storage, expandable trough microSD (up to 124 GB) |