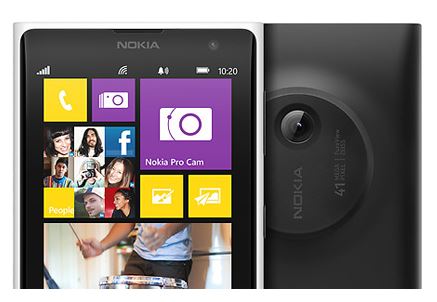 Nokia Lumia 1020 Windows Phone 8 device reviews were posted by various tech blogs today. Here are some conclusions from the review. As usual, many of the reviews pointed out at Lumia 1020 running Windows Phone 8 OS as a let down. But apart from that, the device got positive reviews due to its impressive camera experience. For example, Readwrite wrote Nokia Lumia 1020 as "The Best Damn Smartphone Camera Money Can Buy".
Pros

Best-in-class imaging experience
Good battery life
Smooth performance
Solid build quality and materials
Beautiful display

We've been waiting a long time for the 808 PureView to get a Windows Phone counterpart with the same (if not better) imaging prowess. Finally, it's here. Now that we've had the opportunity to use the device, we can confidently say that the Lumia 1020 is the best Windows Phone device to date. If you're a WP8 user who enjoys crafting the best possible photographs, you need to make the jump, even if you are paying a premium for the camera.
After a long period of resetting with Windows Phone, Nokia's getting good, and fast. The 1020 is one of its best devices yet, and certainly the easiest to sell — if you really love cameras, you'll really love the Lumia 1020. But a great camera wasn't enough to sustain the 808 PureView, and even though Windows Phone 8 is a huge leap forward from Symbian it's still a long way behind. There are plenty of compelling Windows Phone 8 options, from the gorgeous 925 to the feature-packed 1020, but they can't change the fact that Windows Phone 8 itself just isn't that compelling.
On both image quality and functionality, the Lumia 1020 has the best camera that's ever been put in a smartphone. Hands Down. And it's also a very capable phone; it's fast, and its display is every bit as crisp and wonderful as the 928. And all of that in a package compact enough that it's not just some throwaway concept—this is a real product for real people. For the first time ever, mankind has made a phone that's really two things at once without being a monstrosity.
Overall, the Nokia Lumia 1020 looks like the new smartphone camera to beat. No, the $299 price isn't cheap, but this handset's 41-MP sensor gives shutterbugs incredibly sharp detail and beautiful color in a variety of situations. Like other phones cameras, the 1020 can fall prey to acclimating for exposure and unbalanced color accuracy. But that's where the Pro Cam app comes in with its various manual controls. To us, the Nokia Lumia 1020 represents an imaging triumph that further narrows the gap between smartphones and dedicated cameras.
From an imaging perspective, the Lumia 1020 appears to be just what we'd hoped: a more advanced version of the PureView technology that blew us away when we first saw it on the 808. And this time around, the Lumia 1020 has even more to offer the photographer who wants to use their mobile as a serious camera. From OIS to an even faster lens to that add-on camera grip that nearly had us convinced we were using a "real" camera, the Lumia 1020 seems to offer a lot of potential. Our initial trials with the device's auto mode don't explore the Lumia 1020 fully; we need to delve further into the camera's actual imaging capabilities: it's here that we'd like to see what this camera can do.