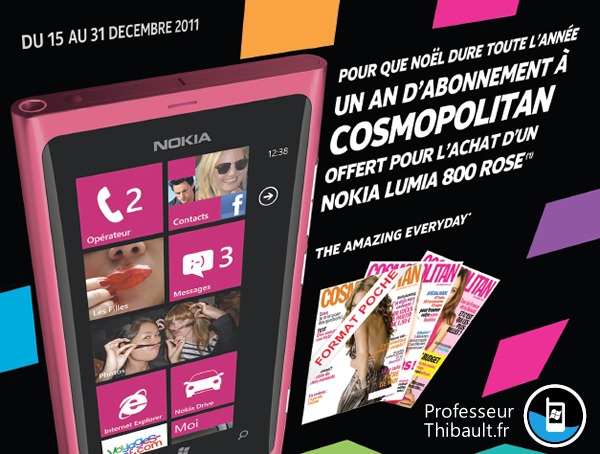 While many women would object against the suggestion that they may chose a phone just because it matches their handbag, the truth, at least in my experience is that pink gadgets do sell particularly well to women.
Nokia France is not shy to emphasize the connection between their pink (or rose, magenta, fuchsia etc) Nokia Lumia 800, which is expected to be released just before Christmas (the Prof is expecting it to be available today). They are giving away a one year subscription to Cosmopolitan, which should both associate the device with high fashion and of course women, and also help sell the device.
The more manly black Lumia 800 will only receive a Nokia BH-111 Bluetooth headset worth 30 euros while stock lasts.
Professeur Thibault believes the pink Lumia 800 will not hang around on shelves for long, and believes the Orange France version has already sold out on the same day. Now that's good marketing :).
Read more at Professeurthibault.fr here.