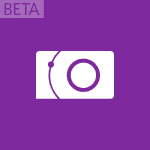 On their Conversations blog Nokia today announced that they will be making the new Nokia Camera app available in beta form to all Lumia handsets, including non-Pureview ones.
At present the beta app is identical to the official app in the Windows Phone Store, but Nokia intends to use the beta as a place to test the latest and greatest bug fixes, improvements, and functionality, and the beta can be used on the same device as the official Nokia Camera app.
The beta supports the Lumia 520, Lumia 521, Lumia 620, Lumia 625, Lumia 720, Lumia 810, Lumia 820, and Lumia 822, in addition to the usual Pureview handsets.  The handsets need to have either Lumia Amber or Black installed however. 
Those who have Lumia Black installed will be able to have the Nokia Camera app accessible while the phone is locked, and 1020 owners will be able to export pictures in DNG format.
Sign up for the beta at Nokia Betalabs here.