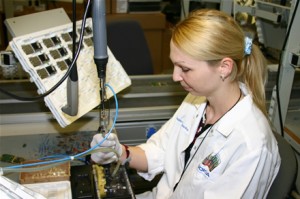 In a conference call with leading investors and analysts, Stephen Elop said their Windows Phone sales could have grown even faster were it not for supply-side issues.
"For example, AT&T and the 920 had significant supply issues with us during the course of the quarter," Nokia CEO Stephen Elop said during a conference call.
Nothing that Lumia 920 shortages were in part due to being "very deliberate" and "thoughtful" about how it introduced the Windows Phone 8 device in November, as they feared a potentially costly stockpile of unsold Lumia handsets, he said they were "still dealing with (supply) constraints"."
It was however not just under-ordering by Nokia, but also shortages of key components which limited supply of the handsets.
"(We are) working with suppliers and operators to work through the situation today," Mr Elop said.
The shortages also prevented Nokia from being able to discount the handset as they traditionally would have, a situation which will presumably improve as supply increases.
"Other parties may be making decisions to drive traffic or to change behavior….But broadly speaking, this hasn't been a price discounting environment."
He said Nokia did not expect to sell any significant number of Symbian handsets in Q1 2013, leaving their Lumia handsets as their only smartphone OS.
"We have to make steady progress quarter-on-quarter-on-quarter. Obviously, getting off to a good start with Windows Phone 8 was important in that journey and I think the results today reflect the fact that first step is something we are quite pleased with," Elop said.
Nokia will report its full fourth quarter results on Jan. 24.