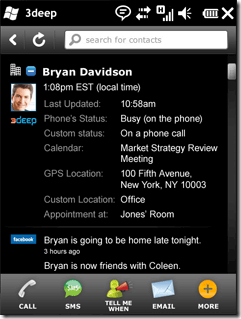 Ever felt the urge to let everyone know exactly what you are doing, every minute of the day?  With twitter growing at exponential speeds it seems this demographic is pretty large, and LiteScape Technologies, Inc. has created a smartphone platform just for this crowd.
Their application, 3deep offers a cross network, cross device mobile platform and application that turns personal contact lists into live and intelligent address books, similar to what has been seen on the Palm Pre or HTC Touch Pro 2, but much more powerful and immersive.
The 3deep Presence Platform is a hosted service that aggregates the key sources of presence information—on or off the phone; calendar availability; IM and social network status; and physical location—into "deep" presence. The user presence, availability and location can then be made available to mobile operators, service providers, social networks and application developers via a single API. With access to the 3deep platform, these partners can offer their own differentiated applications, driving greater usage of data and voice services, attracting and retaining subscribers and increasing ad-based revenue.
Harnessing the 3deep Presence Platform, the mobile application taps into a wide range of data sources—from the Smartphone itself, but also calendar applications, instant messaging, social networks and location-based services—to reveal the dynamic, multi-dimensional status (presence, availability and location) of the contacts stored on the phone's native address book.
A special feature is "Tell Me When," which allows condition-based communications, allowing people to make intelligent, timely decisions on whether to connect with someone via voice, text, e-mail or IM.  Examples include having the app prompt you when the person you want to contact has finished a phone call.
3deep allows users to:
Share status, location and preferred means of contact—at any time
Leverage the rich information already contained in existing address books, social networks and buddy lists
Maintain privacy—users decide when, how much and with whom to share deep presence information
The technology appears pretty impressive, but mainly let down by being another piece of software and another network one needs to load and use.
This cant be bothering Microsoft too much, who will be showcasing the 3deep mobile application at the Windows Marketplace for Mobile Booth 5136, Central Hall 1.