Today, Microsoft released Windows 10 Build 14986 with a bunch of new features and improvements to Insiders. One of the most notable new additions in build 14986 is the new Windows Defender app which the company showed off back at its Windows 10 event in October. The new Windows Defender app is currently in preview, which means it will have a couple of rough edges and that's completely expected.
The new Windows Defender app introduces a modern design for Windows Defender just like most of Microsoft's modern Universal Windows Apps. The app includes a pretty simple Windows 10 UI with a hamburger menu that makes navigating around the pretty easy.
In terms of features, the new Windows Defender app includes all the basic features you'll find on the classic Windows Defender. For example, you can scan for any threats in your PC with the new app, and you can also check for protection updates right from the Windows Defender app. However, Microsoft notes that the new app may lack some features which isn't anything surprising to see as the app is still under development — here's the company's full statement:
We're working hard on adding new features and finishing our new look, so not everything is ready quite yet. Some features you're loooking for may not be available now, which is why the previous version of Windows Defender is still available on your device.

We're looking forward to hearing your feedback on the improvements we're making to Windows Defender!
Here are some more screenshots of the app:
Gallery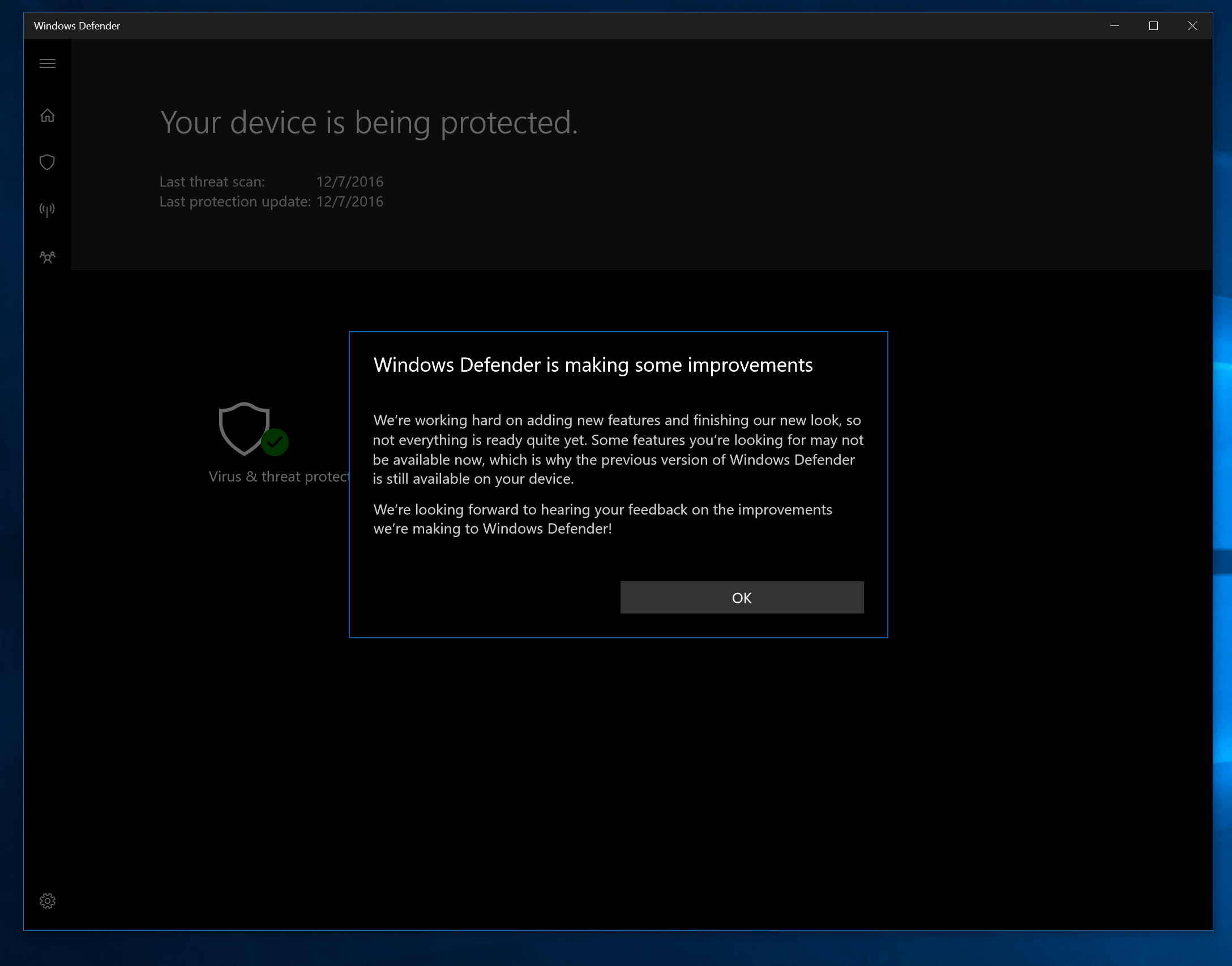 Once again, the new Windows Defender is only available to Insiders running build 14986 — which you can know more about here. If you aren't a part of the Windows Insider program, you'll get to try out the new Windows Defender along with a range of other improvements with the Windows 10 Creators Update which is expected to be available in March 2017.