Windows 10 Mobile has been in the news for last few days, not because of the new updates but because for the first time hackers have achieved full access to the new OS allowing them to change the registries so that the OS can be customized. It all started with the Project Astoria leak and then everything on the platform changed. Now the guys at XDA managed to interop-lock Windows Phones to get full access. This means that you can customize your phone to the extreme level and get desired results. With that tutorial, we started playing a bit with the registry on Lumia 830 and got some great results.
All though this sounds fun but before moving ahead, we would remind you that these are not Microsoft certified and can cause serious damage to your device. Do this at your own risk. We won't be responsible for any problems you face in your device. If you are a casual user then we request you to leave this post here. However if you are a Windows Mobile Power User…
So if you are still continuing with us then you might not have any love for your Windows Phone (Just Kidding). Let's move forward with the first hack that allows you to get the navigation bar with the hardware keys.
Microsoft introduced the navigation bar/on-screen keys last year but not all Windows Phones support it. If you love those then we have a hack for you.
As usual you need to first deploy the registry editor on your device. You can check the tutorial how to this on xda forum here.
After doing that successfully, open the app and go to the Tweaks Page.
Now tap on General Tweaks.
You will be greeted by the UI General Tweaks page. Move to the 3rd option and enable it. Below that, you can change the navibar height or separator height. If you don't want, just leave it to default.
Reboot your device and you will see navigation bar.
Note: Only one set of keys can work at a time so if you enable on-screen keys then the hardware keys will get disabled automatically. This is ideal if you are constantly hitting your Search button by accident for example.
Check the screenshot below for full details.
Moving to next is how to change the keys hold timeout. For doing this, again open the registry editor.
After opening it, go to the registry tree page.
Now go to HKEY_LOCAL_MACHINE (HKLM)\SOFTWARE\Microsoft\Shell\Custom HoldDelays
Here's the list with the different registries we can find on this path:
– HeadSetHoldTimeout
– StartHoldTimeout
– BackHoldTimeout
– SearchHoldTimeout
– VolumeUpHoldTimeout
– VolumeDownHoldTimeout
– CameraHoldTimeout
– FocusHoldTimeout
– PowerHoldTimeout
– RingerHoldTimeout
– OEMCustomHoldTimeout
– SearchTapTimeout
Change the values according to your needs. Do note that the values should always be in 8-digits.
Note: Setting values too low will cause tap action act like a hold action.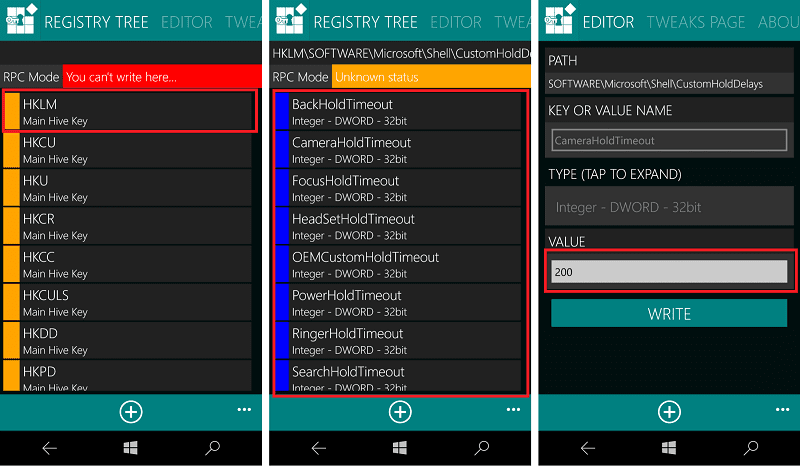 Moving to the next one is the ability to change the interface of your device to make it look like a phablet. It might be something, which some of you maybe aware of. Some of us might have done this when the Windows 10 Technical Preview was released for just a small number of device. Anyways, below is how to do that. Once again, open the registry editor.
After opening the editor, go to registry tree page.
Change your PhoneModelName and PhoneManufacturerModelName in HKEY_LOCAL_MACHINE (HKLM)\System\Platform\DeviceTargetingInfo to RM-938
Reboot your device.
Here is how the phone will look after you enable the phablet interface. Note these screenshots are taken from Lumia 830.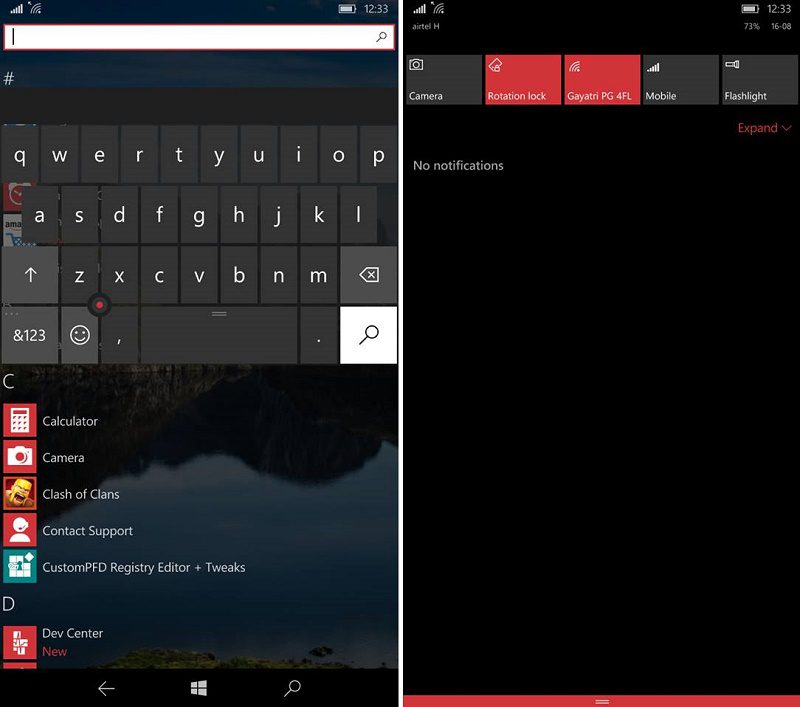 These were the some major edits you can do right now. We are still exploring more things and will update the article accordingly so make sure you bookmark it.
We have found some glance related settings in the editor. We are experimenting with them and will update the post if anything worth is found. You can check glance settings yourself by going to: HKLM\Software\OEM\Nokia\GlanceApps and HKLM\Software\OEM\Nokia\GlanceProvider
At last we would like to give a big thanks to the XDA community for all these hacks. These are just a comprehensive tutorials of all the work done by those at xda forum.
So what do you think about these hacks? Are you going to try them on your device. Let us know below. Also if you find something interesting, then don't forget to share with us.
Update:  We have found some more tricks that looks like worth sharing with everyone. In fact we found an all new editor with a decent UI on xda forums so that you don't have to navigate between registries.
You can download the latest app from the xda thread Here and deploy it using the same method.
Please note that this app contains many tweaks so we suggest you trying more yourself. We are just going to highlight some major ones.

Gallery
So these are some of the latest updated registries for your Windows Phone. Do try them as well and let us know your thoughts on these hacks. Again a reminder we would remind you that these are not Microsoft certified and can cause serious damage to your device. Do this at your own risk. We won't be responsible for any problems you face in your device.