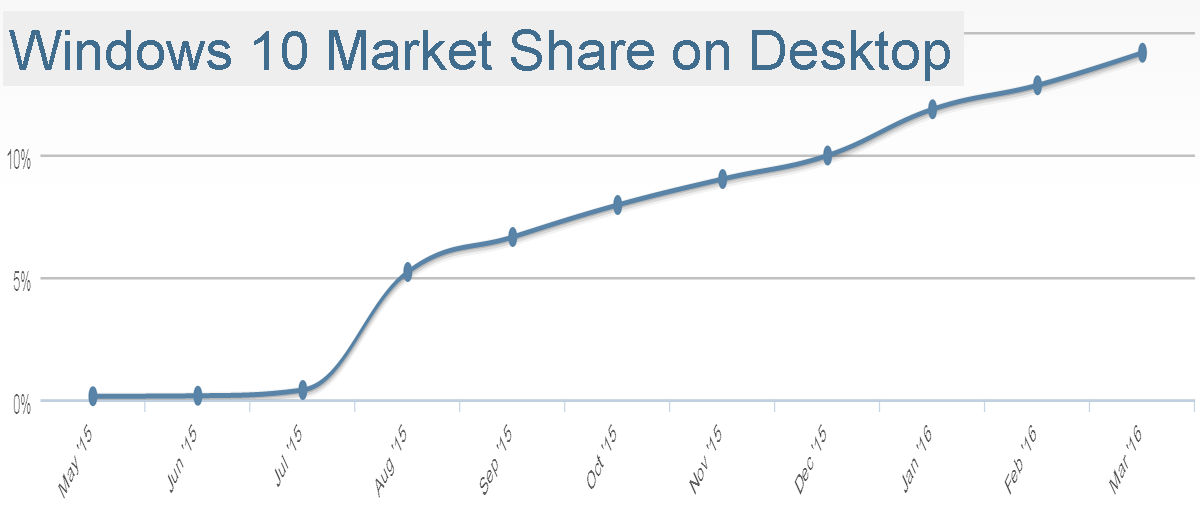 There have been some speculation that Windows 10's growth is running out of steam, with the OS not growing as strongly in penetration as before.
At BUILD 2016 Microsoft however announced that there is now 270 million Windows 10 users worldwide, and today Netmarketshare's latest stats continue to show that the OS is growing strongly, with Windows 10 now 14.5% of all PCs in use online by Netmarketshare's count, making it second only to Windows 7.
Windows 10 grew 1.33% in March, its 4th strongest month since launch, with the other months clustered around the launch, and much more than the 0.97% it grew in February.
Windows 7 dipped 0.45% to 51.89% and Windows XP also dropped to 10.9%.
At 270 million devices Microsoft is now 27% towards their 1 billion devices goal, and managed this in only 8 months, and with growth relatively steady at 1.25% per month it seems likely  Microsoft will reach its goal within its earlier 3 year estimate.