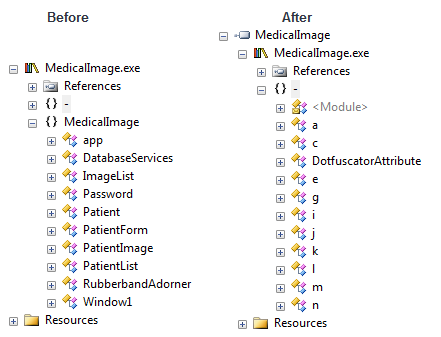 One reason some have been complaining about the lack of native code in Windows phone 7 is due to the ease of reverse engineering .Net code, meaning proprietary program code and protocols can easily be stolen by competitors.
PreEmptive Systems have announced at WPC 10 that their Dotfuscator Professional product with will obfuscate code and prevent easy reverse engineering will support Windows Phone 7 before devices running the OS reach market at the end of the year.
The software now also includes an analytics model, which uses a RESTful service layer to integrate application data with back-end business information, allowing developers to see how their applications are being used.
The software offers to:
Obfuscate Silverlight assemblies to protect Intellectual Property and prevent tampering;
Process XAP files and automatically re-sign assemblies to automate and streamline the build process.
Compress and link Silverlight assemblies to optimize load time and performance;
and Inject analytics into Silverlight assemblies with no programming or access to source code to help developers and architects improve software quality and user experience;
Integrate web analytics through Expression Blend and the Silverlight Analytics Framework to help designers fine tune web application design and value.
"Silverlight's power stems in large part from its ability to span devices and deployment models," said Gabriel Torok, President of PreEmptive Solutions. "Our Runtime Intelligence offers developers and IT leadership the unique ability to monitor and measure application impact across these diverse scenarios while Dotfuscator ensures that their development investments are secure and efficient."
"The central role of Silverlight is still only just emerging," said Sebastian Holst, chief marketing officer at PreEmptive Solutions. "Recent, early successes extending analytics and protection to Windows Mobile 7 and into XAML resources outside of Silverlight assemblies have only served to reinforce the criticality of being able to measure user experience and secure applications across both physical layers and form factors."
Read more about the important technology at  www.preemptive.com.
Via SDTimes.com