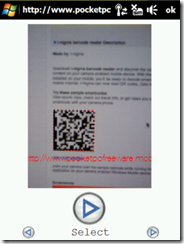 NeoReader is a mobile application that turns a mobile phone camera into a code scanner and provides one-click access to mobile content on the go, anytime and anywhere. NeoReader features NeoMedia's patented resolution technology and Gavitec's ultra-small footprint and platform-independent code scanning algorithms. The software is available on Symbian, iPhone and now Windows Mobile.
The application supports Data Matrix, QR code, Aztec code, EAN, UPC and Code 128, unfortunately Microsoft Tag is not included.
The software is available to download by visiting get.neoreader.com from your mobile browser.
Via Freewarepocketpc.net.