One of the best features of Opera is that it offers a free VPN built right into the browser, allowing users to browse safely no matter which network, connection or country they happen to be in or on.
Soeren-hentzschel reports that Mozilla may also soon start offering a VPN service to make users safer when browsing dodgy websites or when on insecure connections, but unfortunately, their offer is not quite as selfless as that of Opera.
Mozilla has partnered with Swiss VPN service ProtonVPN (same company as ProtonMail) to offer their premium $10 per month VPN service to Mozilla users when the browser detects you are using an unsecured network or connects to an unencrypted public wi-fi, or when you browse privacy related sites like disconnect.me, strongVPN and visiting Netflix or Hulu.
The offer would be made via a notification as can be seen below, with tests starting with a subset of Firefox users in USA tomorrow.
Gallery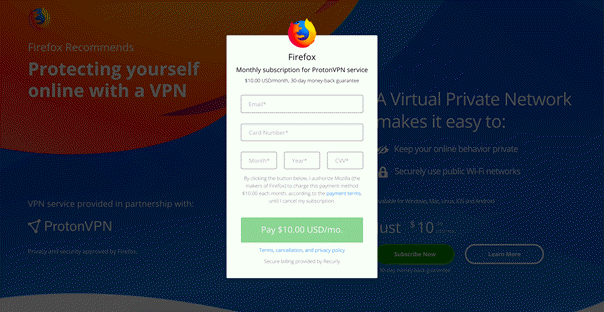 The pop-up would say  " Firefox recommends ProtonVPN, it appears you are browsing on an unsecured wireless network. Firefox has teamed up with ProtonVPN to provide you with a private and secure internet connection. No matter where you are."
According to the report, Mozilla will be getting a share of the $10/ month revenue if users subscribe to the service.
Firefox already does extension recommendations based on the websites you visit, but these are usually free – this is believed to be the first time the company is using its recommendation service for profit.
Given the privacy-focussed nature of many Firefox users, it seems unlikely this intrusion, in what is essentially a pop-up ad based on your browser history,  will be well received. What do our readers think of this news? Let us know below.
via Techdows.com