And there you go. Motorola finally revealed its probably worst kept secret, the device that until now we all knew as Atila. The touch-tablet as Motorola named the device, is called MOTOSURF A3100 and is part of the limited line-up for the Electronics Trade Show.
We are still waiting for official specification sheet, but the quote from Motorola does reveal features like, triband HSDPA/HSUPA support, customizable home screen,omni-directional trackball, 3MP camera and of course all this running on Windows Mobile 6.1. Although not mentioned in the quotes below, the screen is a possibly entry-level QVGA.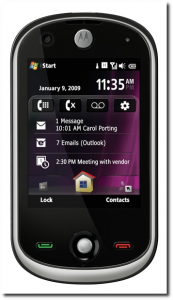 Managing your social and work life just got easier with the SURF A3100. The touch tablet's customizable home screen is layered on top of the familiar Windows Mobile 6.1 software and has many applications that can be accessed with the tip of a finger, a stylus or an omni-directional trackball. The home screen icons can be personalized to give 'live' feeds on weather, news, personal and work e-mail, messaging and calendar events. WiFi and 3G connectivity make the experience seamless and fast.

"The SURF A3100 has a customizable "carousel" GUI with gesture control and RSS feeds delivered direct to the homescreen.  As well as triband 850/1900/2100 HSDPA/HSUPA support there's WiFi, Bluetooth 2.0 with A2DP and a 3-megapixel auto-focus camera with video capture. The whole thing measures 110 x 59.7 x 13.7mm and weighs 119g; it's rated for up to 6.8hrs talktime or 12.4 days standby. It will be available in Q1 2009.
We now have to wait to see if this final Motorola's effort to get its phone division back in track are successful, but I have to admit that the home screen sure looks good.
Update: According to Phonescoop the SURF A3100 will be available in select Asian markets during the first quarter of the current year, while there is no word for a North American release.