Two more apps using the accelerometer found in HTC's latest devices have popped up. While I appreciate the effort, and one does look quite polished and useful, they are both digital spirit level apps, which has already become tiresome.
Come developers, the Dark Side are not going to wait all day!
On a more serious note, if you are currently doing home renovation, you may appreciate Bubblelevel by J0bro. The app measure the slope of a surface using the 'bubble level' concept, display the slope angle in degrees, measure the relative angle between surfaces using the calibration function and can even be used upside down too.
Download it here from XDA-Developers.com.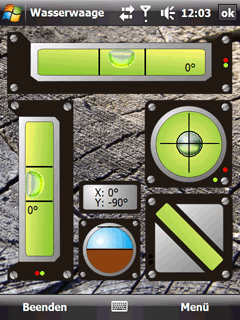 The second app, which is altogether more commercial (and will therefore cost 12 euros) has a similar function, but displays horizontal and vertical directly, has anaologue and digital displays,and will beep when you are exactly level (useful for knowing when to knock that nail in).
Download Kai's Water level (in German) from Pocketland.de.