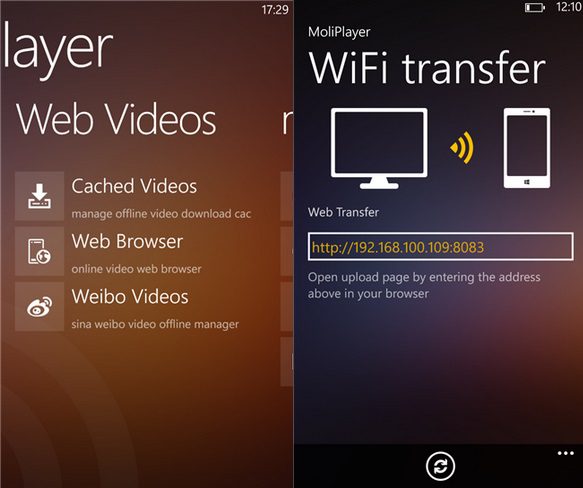 The popular 3rd party media player MoliPlayer just got updated to v1.3.0.8 with many new features. It now has a download manager for internet videos, more sub-title support and more. This app already features the ability to play almost most of the popular video formats like avi, mkv, vob, flv, mp4, etc,. Also it includes easy wireless video transfer from your PC browser in WiFi network.
What's new in 1.3.0.8:
1? Playback and downloading of videos on the main-stream video websites.
2. Download manager of internet videos.
3. Pinch-zoom and pan of videos during playback (SW only).
4. Selecting embedded subtitles during playback
5. [fixed] Slow loading issue
6. [fixed] Charset setting issue for subtitles of certain languages
7. [fixed] Crash after standby for certain time with screen locked
It costs $2.99 with free trial available. Find it here  from Windows Phone Store. If you are in China, Hong Kong, Taiwan and Macau regions, there is a free version of MoliPlayer available for download from Windows Phone Store.
Thanks to hengxiang32401 for the heads up.