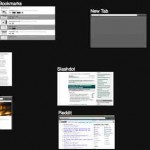 Aza Raskin, Mozilla's Head of User Experience has showed of a video demonstating a design concept for the Mobile version of Firefox, destined mainly for Windows Mobile devices. The video shows a unique concept in site and multi-tab navigation that should make the experience of internet use on our mobile devices not just practical, but also entertaining.

Firefox Mobile Concept Video from Aza Raskin on Vimeo.
Aza is asking for comments and suggestions from the commmunity regarding this development direction, so please follow the link to his blog.
See Aza's site here (Via Gizmodo.com)