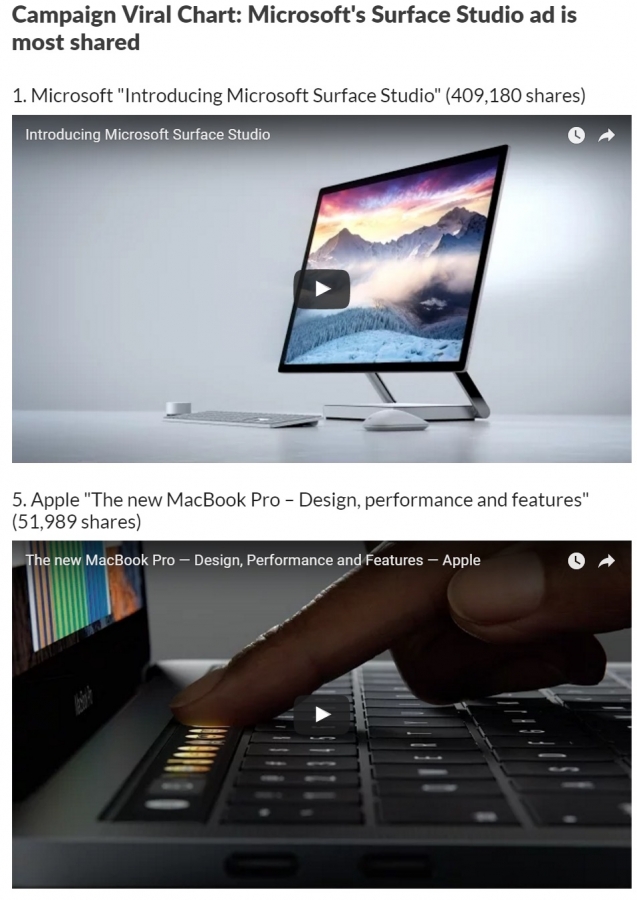 Microsoft's Surface Studio introduction video has beat Apple's similar MacBook Pro introduction video by a nearly 8 to 1 ratio, with 409,180 shares for the Surface Studio vs only 51,989 shares for the new MacBook Pro according to marketing site Campaignlive.
The Surface Studio video shows off the device's features set to a soundtrack of the song Pure Imagination while the MacBook Pro is a typical Apple device video narrated by Jonny Ives.
The Surface Studio is another example of Microsoft's expert use of emotive music, but we are of course more used to seeing them use the technique with their Xbox titles.
Of course the video does not just win on presentation – the Surface Studio is widely believed to be more innovative than the MacBook Pro, which features Apple's typical innovation, which these days means thinner with less ports.
See the two videos below and let us know if the Surface Studio video deserved the title.
httpv://www.youtube.com/watch?v=embed/WVPRkcczXCY
The "Pure Imagination" cover by Stephanie Tarling can be downloaded from Bandcamp for free here. Somewhat more costly, the Surface Studio starts at $2,999 and you can pre-order one here.