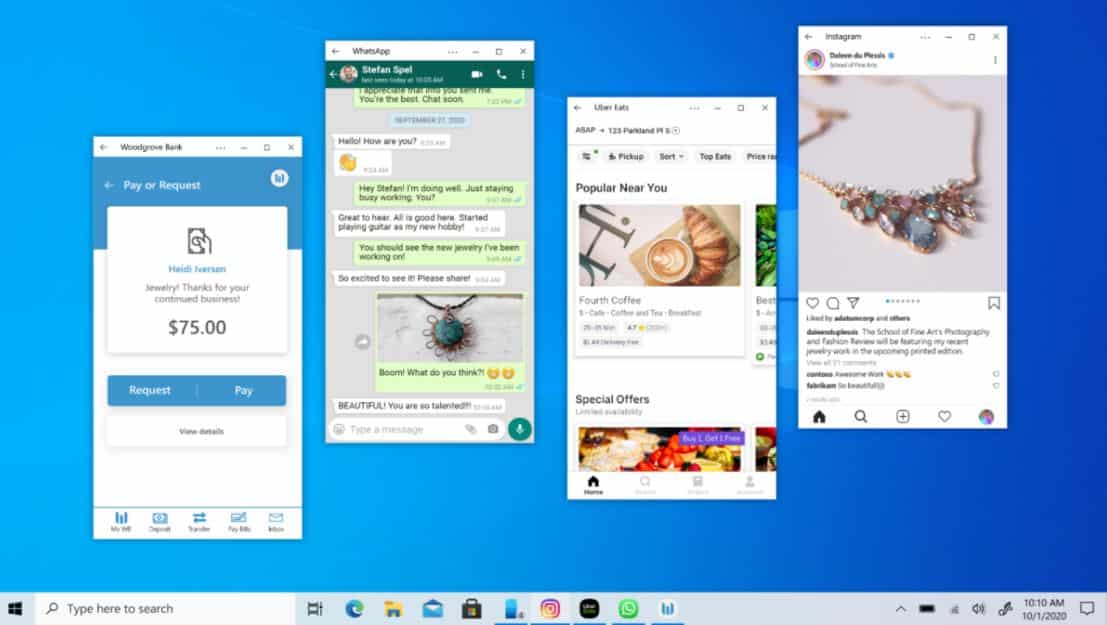 Early today, Microsoft announced that it is rolling out the ability to run multiple Android apps via the Your Phone app for Windows Insiders. Microsoft has now provided information on the multi-apps feature requirements and recommendations. This new Your Phone multiple app feature is gradually rolling out to selected Samsung devices and PCs running Windows 10 Insider Dev, Beta, or Release Preview Channels.
Required app versions:
Your Phone app on your PC version 1.20102.132.0 or higher – from Microsoft Store.
Your Phone companion app – Link to Windows on your Samsung device version 1.20102.133.0 or higher – from Google Play store
Link to Windows Service version 2.1.05.2 or newer – Get it from Galaxy store only available using this link here
Multi-apps feature requirements and recommendations:
Multi-app experience requires Windows 10 May 2020 Update or later. However, we always recommend updating to the latest version of Windows 10. To check and update our version of Windows, on your PC go to Settings > Updates & Security > Check for update.
Only available on select Samsung devices (see list below)
Your Android device and PC need to be connected to the same Wi-Fi network.
Supported Android devices:
This feature is currently available on the following Samsung devices running Android 10 that have Link to Windows integration:
Samsung Galaxy Note20 5 G
Samsung Galaxy Note20 Ultra 5G
Samsung Galaxy Z Fold2 5G
Samsung Galaxy Z Flip
Samsung Galaxy Z Flip 5G
And on the following Samsung devices with Link to Windows integration and enrolled in the Samsung OneUI 3.0 Beta program, running Android 11:
Samsung Galaxy S20 5G
Samsung Galaxy S20+ 5G
Samsung S20 Ultra 5G
Limitations:
Some apps might block the ability to cast to another screen, so you may see it as a black screen.
Some games and apps might not respond to interactions from a mouse or keyboard connected to your PC. You'll need to use a touch-enabled PC to interact with them.
 When you open an Android app via Your Phone, you view and interact with the app on your PC, but any audio coming from the app will play from your Android device. The sound isn't transmitted to your PC.
 Your smartphone must be on and unlocked to use the Apps feature. You can unlock the device from PC after launching an app if needed.
Phone and PC must be on the same Wi-Fi network.
Apps that are installed under work profile or secondary profiles will not be shown in the Your Phone App list. If you wish to interact with those apps, you can open them via the Phone screen functionality.
Known Issues:
When using the Android Gmail app on PC to reply to an existing thread, the reply will not contain any fields including recipient's email, subject or previous thread if included. This issue is fixed for users running Android 11.
  If you update to 20H1 after receiving the app update, launching an app pinned from Start/taskbar may not work. A clean install of 20H1 or newer will not have this issue.
Narrator might not work properly for specific apps like Bixby, Camera, AR Zone.
 Some of the messages may still show in English only
 If you don't have the latest update to the Link to Windows service. Clicking on a notification via toast or in the notifications feed won't launch the app if no other apps are running via the Your Phone app. You can work around this by opening the app from the app list first or having any other app open before clicking on the notification. This issue is fixed in the latest Link To Windows service (2.1.05.1 or newer) available via the Galaxy Store Beta program.
Source: Microsoft