Is Copilot the best AI companion out there? Help us find out by answering a couple of quick questions!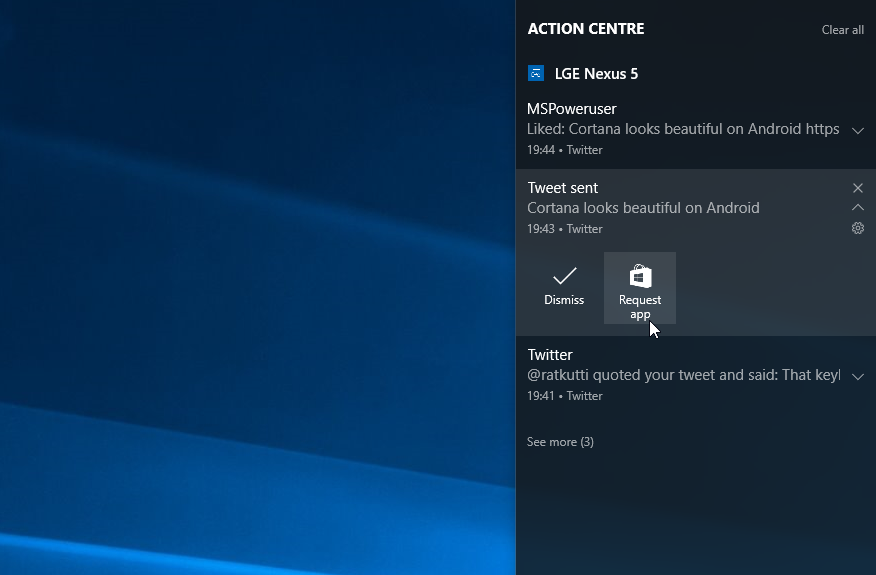 Cortana has hundreds of thousands of users on Android, and most of those users are also using Windows machines.
Microsoft's notification sync feature, where users will be able to receive and interact with their Android notifications from their Windows 10 Action Centre, is therefore a pretty handy feature, but besides making their users happy Microsoft is also using it to promote the Windows Store to developers.
In the latest builds of Windows 10 the notification badge in the Action Centre for a message from an Android phone will now include a button to request that the same app be developed for the Windows Store.
Presumably the fact that the user of the app is also using Windows 10 would be evidence for the developer that they have a built-in audience on the Windows Store ready to adopt their app on Microsoft's own platform also.
The button takes you the Winstore Request UServoice forum which is at present rather underpopulated, but presumably will be more active after the Anniversary Update is released.
Microsoft has before got in trouble for cross-promoting their products in the Android notification centre, but presumably they feel safer on home turf.
What do our readers think of this move? Let us know below.