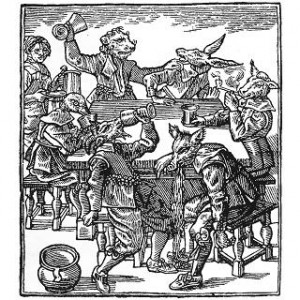 A court case in UK has revealed that Microsoft UK has a much more party atmosphere than previously expected from the straight-laced company.
Simon Negus,  general manager of Microsoft in the UK, is suing the company for wrongful dismissal following being fired for lying to an investigating panel after allegations of kissing a former colleague.
In papers lodged at the High Court, Mr Negus described a Microsoft annual sales conference in which "drunkenness and outrageous misbehaviour were rife".
Talking about an Atlanta Microsoft Global Exchange conference in 2009, he claimed :
"The alcohol made freely available in unlimited quantities included neat vodka which could be drunk from an ice fountain, and a very strong German liquor called Jagermeister,"
According to the court papers, one director was so "ridiculously drunk" he followed a female manager into the ladies' lavatories. Another executive was "so p***** he could not remember a thing".
A Microsoft spokesman said it would be "inappropriate to comment" on an ongoing court case".
Maybe this explains those lost 2 years of mobile development…
Read more detail at the Telegraph here.
Via Neowin.com