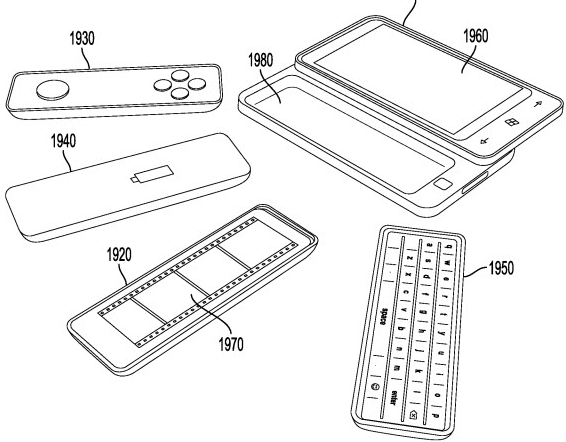 Another interesting Microsoft patent application got published today. The whole idea of this patent is to have secondary devices which can be attached and detached from a smartphone. It will function appropriately in both the modes. For example, a keyboard device can be used for the smartphone when attached to it, when detached it can act as a remote control for a TV, etc.
Abstract:
MOBILE COMMUNICATION DEVICE HAVING MULTIPLE, INTERCHANGEABLE SECOND DEVICES:
A mobile communication device comprises a first device with a first display and multiple second devices. The second devices are releasably attachable to the first device and are interchangeable with each other. The mobile device can operate as a mobile cell phone with one or more second devices operable as a mobile phone hand set. The second devices can comprise one or more game controllers, batteries, physical keyboards and/or mobile phone handsets with a display. In a detached configuration, the first device is separated from the second devices and can wirelessly communicate with one or more of the detached second devices. In a three device configuration, the first device can send commands, control signals or content to one or more external devices in addition to the second devices.