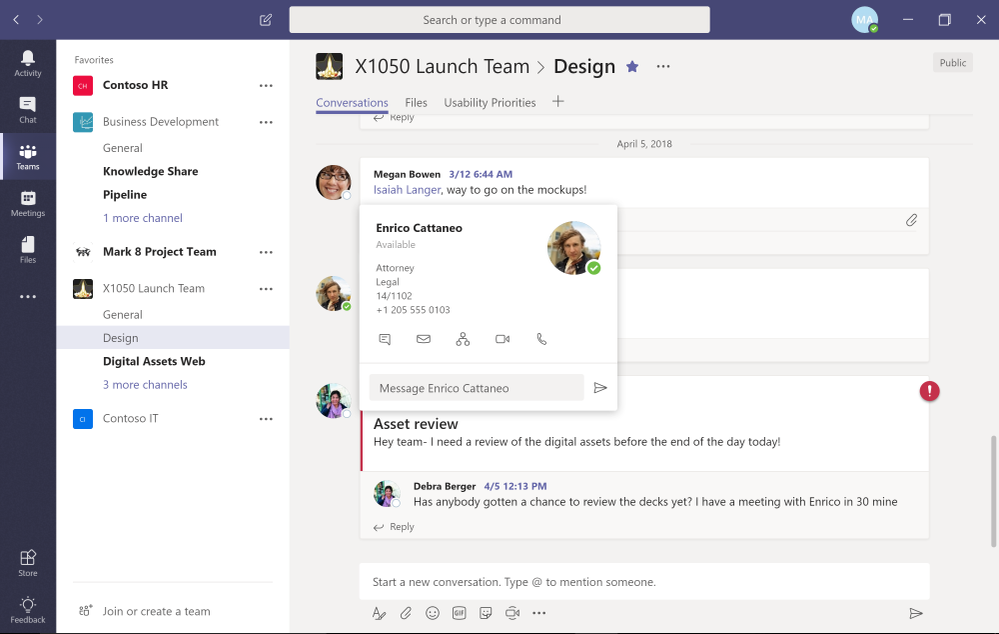 Microsoft yesterday announced the Teams – May Update which includes several new features like the ability to send message directly from contact card, ability to send a message from the command box and more. Find the full list of new features that will be part of this update below.
Send a message from the command box

You can now send a chat message directly from the command box without leaving the page you're on. Simply type the @ symbol and someone's name into the command box at the top of your screen and type your message to start a chat conversation. Thus, you can send a message without switching context.

Send a chat from a contact card

Another easy way to relay a message is to hover over someone's profile picture to send a quick chat right from their contact card. This makes it simple to switch from an open channel conversation to a private chat with someone.

Dial out of (or into) a group call

Add someone from outside of your organization into a group call in Teams by dialing their number. You've also got the option of distributing a dial-in phone number so anyone outside of your organization can join. Remember, this feature is only available in group calls right now.

Get a reminder that your team is expiring 

You can now renew your team (and the underlying Office 365 group) directly from Teams. If your team is set to expire within the next 30 days, you will see a notification. You can then extend the life of your team by visiting 'Settings'. Here, you can also proactively renew your team before the 30-day notice, (which can be especially helpful if you are leaving for a long vacation for example).

Auto-favorite important channels

Whenever a team owner creates a new team or channel, they can now auto-favorite important channels for the rest of the team. By doing so, the channel will automatically show up in every team member's favorites making it easy for them to discover and access the new channel. (Team members can of course unfavorite the channel if they want to).

New views in Microsoft Planner tab

Planner has made some updates to integrate more seamlessly into Teams. With Schedule view, you can get an overview of upcoming tasks and drag and drop them to set dates.

Add SharePoint pages, news articles and lists as unique tabs within channels

You can now use the SharePoint tab to place important pages, news articles and lists as individual tabs in a channel. This allows you to access and fully interact with the dynamic, data-driven pages and news articles and surface them right in the context of your work in Teams. You can fully interact with the content – including filtering and views for lists.

Bring all your SharePoint team news into discussions

After publishing your news articles, you want to keep everyone up-to-date and automatically spark discussions directly in Teams. To enable that, you can now use the SharePoint news connector to have each SharePoint team site news article generate a new discussion thread within a Microsoft Teams channel. To get started, click on "…" right next to a channel, choose "Connectors" and then search for "SharePoint News".
Source: Microsoft