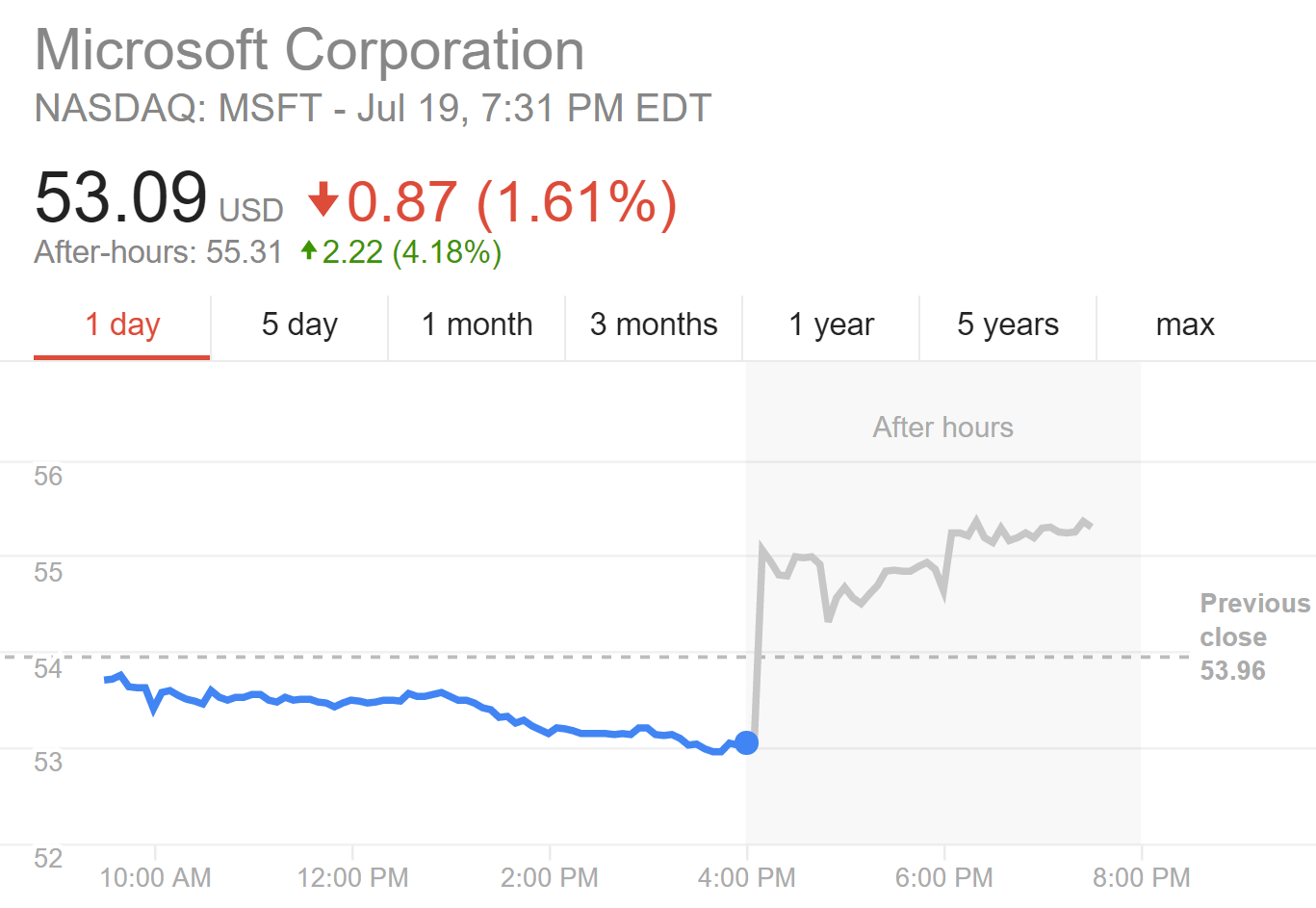 Microsoft has beat analyst expectations with today's FY 2016 Q4 earning announcement, where Microsoft reported  a revenue of  $22.6 billion non-GAAP, with a net income of $5.5 billion non-GAAP for Q4 2016.  Profit was 69 cents a share whereas analysts expected on average 58 cents.
This was half a billion more than the 22.1 billion dollars analysts expected, and largely due to a 19% rise Office products and cloud services, with Microsoft's Satya Nadella saying:
"The Microsoft Cloud is seeing significant customer momentum and we're well positioned to reach new opportunities in the year ahead."
Revenue from Azure more than doubled with 104% growth and Microsoft said it was on target to reach a run rate of  $20 billion by fiscal 2018 from its commercial cloud business.
In fact their current run rate of $12.1 billion exceeds that of dominant cloud leader Amazon, who in their own recent Q1 earnings call said their run rate is $10 billion per year.
Microsoft is currently being valued as a cloud company, a vision which was becoming in doubt the last quarter after Microsoft failed to grow as fast as analysts predicted. Today's good results restored some of the confidence that justifies the high share price, with Sid Parakh, a fund manager at Becker Capital Management, which owns Microsoft stock saying:
"What's comforting is the key underlying trends are in place. At least the long-term trajectory is intact here. There was concern last quarter."
Stifel Nicolaus & Co. analyst Brad Reback noted:
"It's really important to focus on what's growing and what's falling.  Everything that matters grew and grew at a good clip."
CFO Amy Hood noted that after years of heavy infrastructure investment Microsoft now expected their cloud capital expenditure to slow, while reaping the reward of the investment due to economies of scale.
Do our readers think after 2 years in leadership Satya Nadella has proven his strategy is a success for Microsoft? Let us know below.