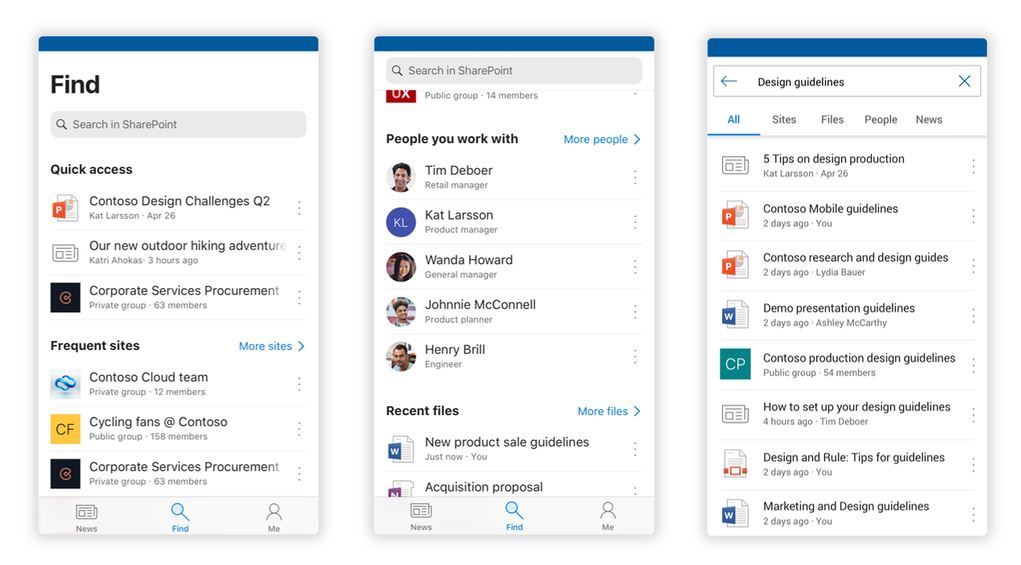 Microsoft yesterday released its redesigned SharePoint mobile app. The updated SharePoint app comes with new news layout, quick access to recent content and new Find tab. The new Find tab brings a new mobile search experience, with an understanding of what you most need at any given time. The new Find tab combines Sites, Links, People and Search into single experience. When you tap the Find tab, you'll see quick access to sites and people you were recently working on and with, across your devices. This looks similar to the Outlook mobile search experience. Apart from the new Find tab, Microsoft has added the following in this update:
Browse your sites, files, people and more to get back to what you were working on
Access your personalized view of team sites, communication sites, and news posts
Tap on a person to get to their contact card and see who they work with and what they are working on
Create news posts on the go and share your updates, reports, status, and experiences with your team
Receive notifications when people around you publish news articles and engage on ones you've published.
Microsoft has just started the rollout and it will take weeks to complete the rollout for everyone. Learn more about this update from the link below.
Source: Microsoft