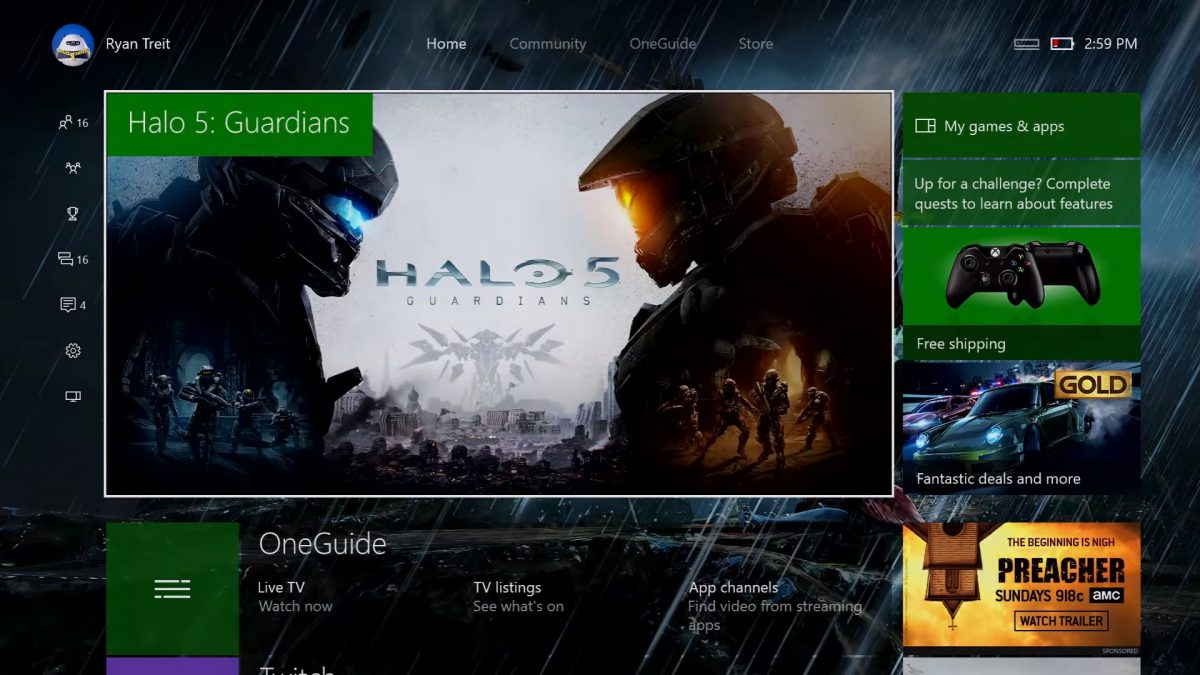 Over the past weekend, Microsoft released Xbox One Summer Update to everyone which brings new features like Cortana, background music support and more. Hot on the heels of Summer Update roll out, Xbox team has now released a new preview build which fixes the issue related to Skyrock app.
DETAILS

OS version released: rs1_xbox_rel_1608.160729-1700 Available: 6:00PM PDT 7/31 (1:00 AM GMT 1/8)

Thanks for helping us test the latest Xbox One update! We're eager to show off the new features and experiences we've been working on. We've noted below a few important things to be aware of before you jump in.

• Certain content (games, apps, DLC) purchased in the new Store may only be available on consoles enrolled in the latest Windows 10 Anniversary edition update or later. This means… • Games purchased on a console running a Windows 10 Anniversary edition can be played on any console running that build or later. • Games purchased via Xbox.com can be played on any console. • Games purchased on a console running the previous update can be played on any console.

• We've added several settings that are already found on Windows today. These include SmartScreen Filter, which sends URLs you visit in apps to Microsoft to check against a list of potentially harmful sites, and advertising ID, which helps Microsoft present you with more personalized ads in Universal Windows Apps. You can choose to turn these off and manage your preferences for how Xbox One uses your information in Settings.

FIXES

• My Games & Apps • Resolved an issue where Skyrock app was unusable after updating.

CURRENT KNOWN ISSUES

• My Games & Apps • If a universal app version of an app is available, the version which is not currently installed may appear under Ready to Install (causing what appears to be the same app both installed and in Ready to Install). • You may encounter an an installation error (0x800700002) when attempting to install or update universal apps. Workaround: Uninstall and reinstall the app. If you have the app installed on both the internal hard drive and an external hard drive, be sure to uninstall from both. • The following games may appear under Apps instead of Games: Kinect Sports Rivals, Kinect Sports Rivals Hub, Nutjitsu, Threes, Voice Commander.

• Netflix You may experience a "Do you own this game or app?" error when launching or using Netflix if it was installed by another user on the console. Workaround: While signed in as the primary user, navigate to the Store, search for Netflix and select Free to download and install it.

• Profile When selecting "Add new" to add a new profile, the add profile interface may take up to 30 seconds to appear.

• Pins If you have pins on your Home to movies, TV shows, or music, they will disappear from Home. The pins for the apps will stay on your Home, easy to get to.

• Community Calendar Links to the Store in Community Calendar event details do not currently function.
Once the update is available, you can update by launching the Guide and navigating to All Settings > System > Console info & updates.