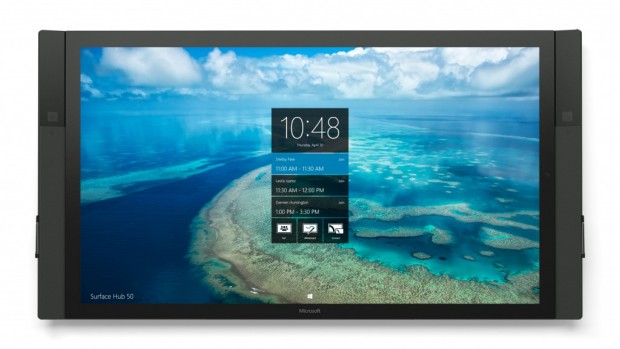 Microsoft today released few demo videos showing the capabilities of Surface Hub.
Microsoft Surface Hub reimagines the meeting experience so that you can unlock the power of the group. You can walk up and join a Skype for Business meeting with a single tap, and share content effortlessly, so that you spend your time connecting to people rather than technology. And since you can easily send meeting notes and content, you can communicate outcomes and action points.
Watch the demo videos below.
Watch this demo to learn more about Siemens JT2GO on the Microsoft Surface Hub. JT2Go for Windows 10, developed by Siemens PLM Software, defines a new paradigm in viewing and interrogating 3D JT files. Users will experience an intuitive interface for navigating assembly structures found in engineering or architectural models stored as 3D JT.
Learn more about the Microsoft Surface Hub PowerBI app. Microsoft Power BI transforms your company's data into rich visuals for you to collect and organize so you can focus on what matters to you. Stay in the know, spot trends as they happen, and push your business further.
Watch this demon on the benefits of using Skype for Business on the Microsoft Surface Hub. Meet with up to 250 people—all they need is a phone or internet connection. Surface Hub is Skype for Business certified, delivering fantastic video conferencing performance in an all-in-one device. No custom setup, no peripherals.
MURAL: The fastest way to better ideas. Watch this demo to learn more about MURAL on the Microsoft Surface Hub. With responsive digital inking, MURAL helps creative teams sort ideas spatially, collaborate in real time, and become better design thinkers.
Watch this demo of the Microsoft Surface Hub Whiteboard to learn more about how to take your ideas with you. Easily share your whiteboard as a rich OneNote or image file with others so your ideas don't get lost and you can continue to evolve them after your meeting ends.