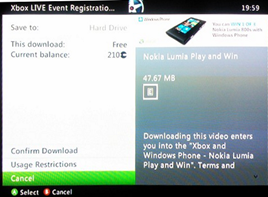 Microsoft is promoting the Nokia Lumia 800 in Australia with a promotion on Xbox Live on the Xbox 360 console.
They are offering a prize of 1 of 3 Nokia Lumia 800 handsets for those who change their gamer pic to a Nokia Lumia 800 avatar and also who watch a video promoting the device.
Unfortunately the promotion is only open to Xbox Live subscribers.
Read more terms and conditions at Xbox.com here.
We think the cross promotional idea is great, but find 3 handsets being given away a bit stingy.  Maybe giving away 300 would create a bit more buzz?
Thanks Akil for the tip and screen shots.