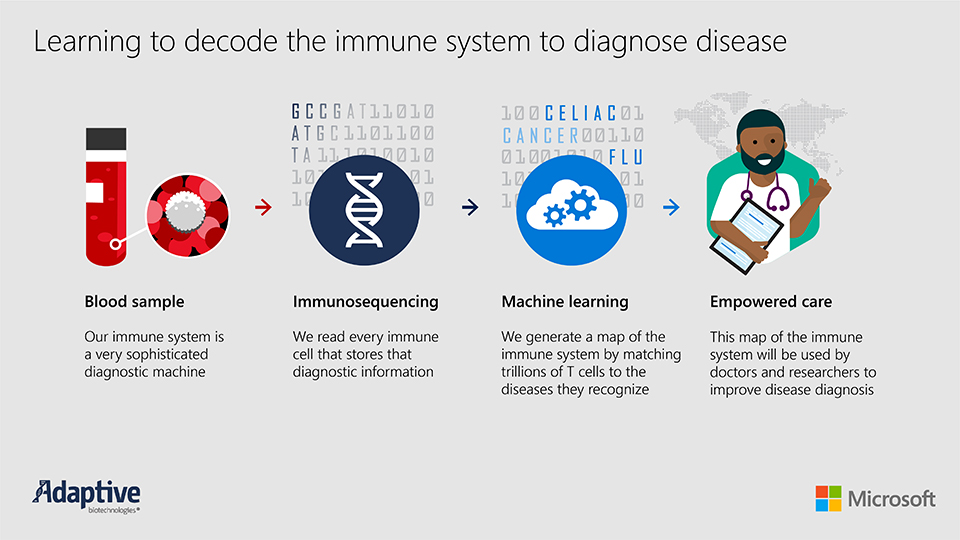 Microsoft today announced a partnership with Seattle-based Adaptive Biotechnologies to decode human immune system using AI and machine learning with recent breakthroughs in biotechnology. Their goal of the project is to create a universal blood test that reads a person's immune system to detect a wide variety of diseases including infections, cancers and autoimmune disorders in their earliest stage so that they can be effectively diagnosed and treated. In addition to this partnership, Microsoft has also made a substantial financial investment in the company.
Imagine a world with an "X-ray of the immune system." This would open new doors to predictive medicine, as a person's immunological history is believed to shape their response to new pathogens and treatments in ways that are currently impossible to explore. The impact on human health of such a universal blood test that reads a person's exposure and response to disease would be, in a word, transformational.
"This announcement comes at a time of inflection in healthcare and biotechnology. We now have the technology to be able to do what we've been talking about for the past decade – develop a universal TCR antigen map that presents an opportunity to help patients at an unprecedented scale," said Chad Robins, President, CEO and Co-Founder of Adaptive Biotechnologies. "Some conditions like cancer or autoimmune disorders can be difficult to diagnose, but this universal map of the immune system will enable earlier and more accurate diagnosis of disease, potentially helping physicians to connect the dots to understand the relationship between disease states and eventually lead to a better understanding of overall human health."
"We are very excited and inspired by our collaboration with Adaptive Biotechnologies, as it clearly advances our mission to use cloud and AI technologies to transform healthcare and improve the lives of people around the world," said Peter Lee, Corporate Vice President, AI and Research, Microsoft. "This collaboration combines powerful sequencing and AI technologies into a revolutionary new capability, and represents the kind of deep collaborative partnership that we live for. We are incredibly proud to bring our best people and AI capabilities together with Adaptive in this joint quest."
This project is part of Microsoft's Healthcare NExT initiative that was announced last year to maximize the ability of AI and cloud technolgies to accelerate innovation in the healthcare industry.