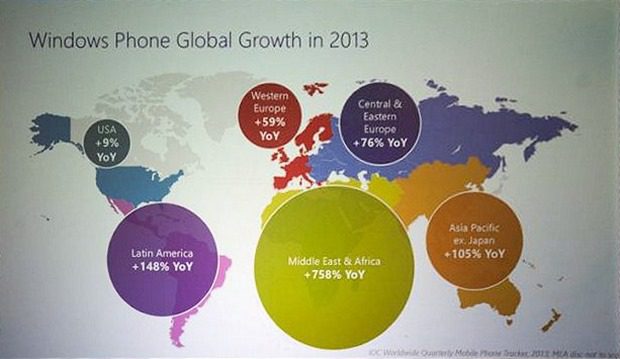 Joe Belfiore is the corporate vice president of Microsoft Windows Phone. In an interview with the New York Times he confirmed what many have suspected – that Microsoft was retreated somewhat from its earlier goal of trying to conquer USA, and was refocusing on emerging markets for growth.
Joe said after only focussing on a limited number of markets in 2013, in 2014 Microsoft planned to get Windows Phone at more price levels and in more countries.
He said he expected significant marketing synergy from owning Nokia's handset division, but however expected the other and new OEMs to fill only niche markets.
He confirmed emerging markets was now a very big focus of Windows Phone , and that Microsoft intended to drive volume with low-cost handsets. The role of higher-end devices will be to add an "aspirational view" of the product line.
To analysts who say Microsoft should give up on Windows Phone he noted Microsoft had a lot to offer, and that the company was not going anywhere.
Focussing on the markets where Windows phone actually has a chance to gain market share is of course wise, but with much of the services and apps used worldwide being firmly based in USA it clearly remains a market which Microsoft can never retreat from, no matter how poorly it does there.
What do our readers think of Microsoft's new strategy? Let us know below.