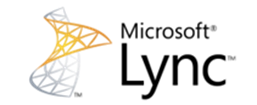 Microsoft Lync is an enterprise communication and collaboration solution. This was previously known under Office Communicator brand. Microsoft announced month back that Microsoft Lync client is coming to Windows Phones and other major platforms this year and even demoed the app at Nokia World and some other events. As announced earlier Lync client will be coming next month, there is no new news on this regard as some websites are reporting today. Also this is the response I got from Lync team last week regarding mobile clients,
Microsoft-developed Lync clients will be available for Windows Phone 7 and iPhone, jointly developed clients will be available for Nokia phones, and partner-developed clients will be available for other smartphone platforms.

We are also still on track to deliver the Lync Mobile apps by the end of this calendar year, as previously announced.
I'm more excited about this app than the much expected Skype client for Windows Phones.