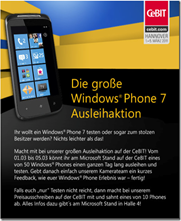 Microsoft is promoting their Windows Phone 7 wares at CEBIT, the computer electronics fair held annually in Germany, by offering interested attendees an opportunity to use one of 50 Windows Phone 7 handsets for the whole day.
There will also be a separate contest where 10 attendees will be able to win a Windows Phone 7 handset each.
One of the best ways to win some-one over to Windows phone 7 is to have them try it hands-on, so we are sure this promotion will be a great success.
CEBIT attendees can read more at Microsoft Germany here.
Via NanoPho.jp.