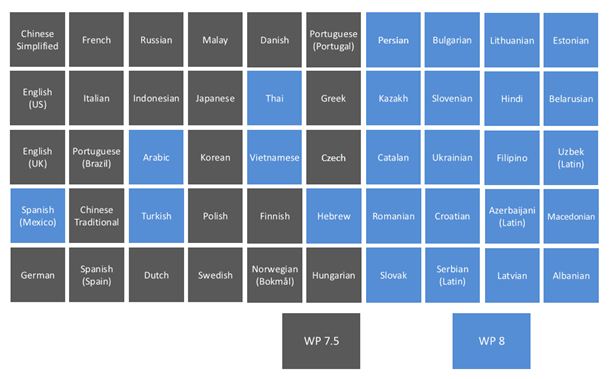 With Windows Phone 8, Microsoft doubled the number of display languages to 50 from 22. Windows Phone team today detailed the improved language support in their official blog.
Windows Phone 8 now supports complex scripts such as Thai and Hindi. The shapes of Hindi letters can change in surprising ways depending on adjacent letters. Such set of languages required some sophisticated engineering in the operating system itself. They said that the languages that are written right-to-left, specifically Arabic, Hebrew, and Persian were the most challenging to implement on Windows Phone 8 because the text is an integral part of core OS design. They used a concept called "mirroring" to implement this.
Apart from Display languages, Windows Phone 8 also includes many new fonts and email, Internet Explorer, SMS, Office, and will be able to handle complex scripts. Also Microsoft has increased speech recognition support for 15 languages and dialects spoken in the following countries or regions: Brazil, China, France, Germany, Hong Kong, India (English), Italy, Japan, Mexico, Poland, Russia, Spain, Taiwan, United Kingdom, United States.
Read about it in detail from the link below.
Source: Windows Phone team blog