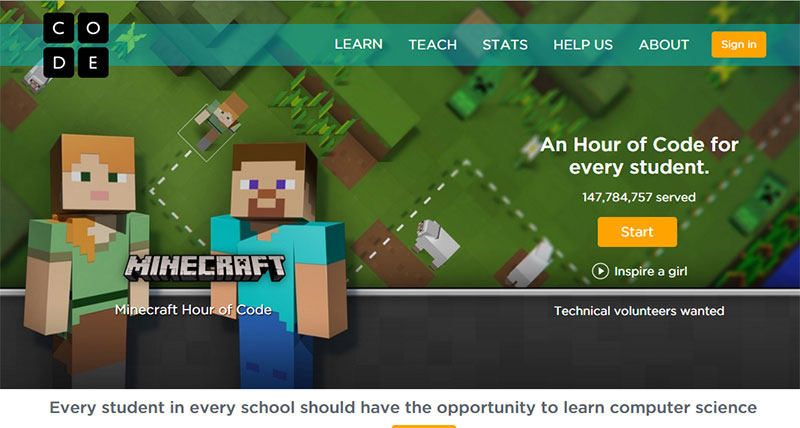 Microsoft and Code.org today announced the Minecraft Hour of Code Designer, a coding tutorial for students and educators created for Hour of Code. Hour of Code is an annual, global campaign held during Computer Science Education Week, Dec. 5–11. This new tutorial is available for free at http://code.org/minecraft. This tutorial was created by "Minecraft" game designers at Mojang and Microsoft, in partnership with Code.org. Microsoft highlighted that last year's "Minecraft" tutorial reached more than 30 million students worldwide. It is available in 10 languages, including Spanish and scheduled to be available in 50 languages by Dec. 5.
"We are partnering with Code.org again this year to make computer science more accessible to millions of youth around the world with 'Minecraft' and Hour of Code," said Satya Nadella, CEO, Microsoft. "I am inspired by the 'Minecraft' generation who view themselves not as players of a game, but as creators of the new worlds they dream up. This is the generation that will imagine, build and create our future, and together we can equip them with the computational thinking and problem-solving skills to seize the opportunities ahead."
The Minecraft Hour of Code Designer teaches students to create their own "Minecraft" experience where they can program the rules. Students use Code.org's familiar drag-and-drop coding interface to learn computer science concepts such as object-oriented programming, event handlers and repeat loops. Students face a series of 12 challenges, culminating in creating their own simple game, which they can share with friends.
"The 2016 Minecraft Hour of Code tutorial builds on the success of the original in a great way," said Mike Harvey, technology teacher from Falmouth, Maine. "By programming familiar game events themselves, learners will be able to experience computer science in a way that is authentic as well as fun. The open-ended challenges help to show that our favorite games (like 'Minecraft') are ultimately created with code."
In support of Code.org and the global Hour of Code campaign, Microsoft said that it will also lead thousands of youth coding events in more than 60 countries. During Computer Science Education Week, there will be hundreds of free workshops hosted by Microsoft Stores across the globe. Students can reserve a spot in a store workshop by visiting microsoft.com/youthsparkprograms and also visit their local Microsoft Store to learn more.