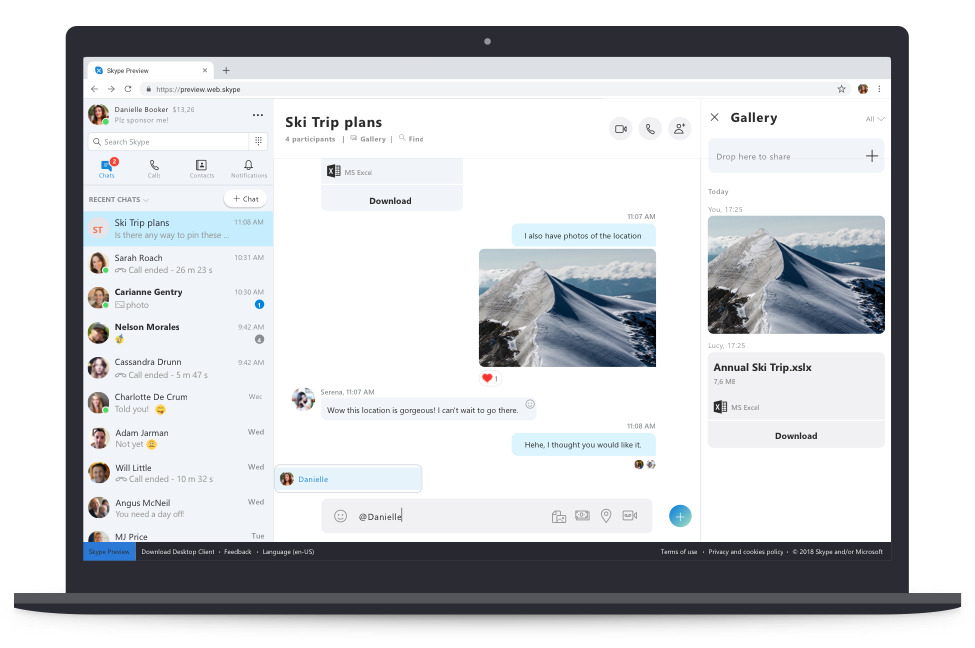 Microsoft yesterday announced the release of new Skype for Web preview experience. This Skype for Web update brings the latest version of the Skype experience to the web. Thanks to the shared codebase, Skype for Web comes with most of the features that are supported on desktop and mobile platforms. Find the list of features supported by Skype for Web below.
HD Video Calling: Experience HD in one to one or group video calling – now with call reactions.
Call Recording: Capture those special moments in a Skype call with your loved ones or record important meetings with colleagues.
Notifications Panel: Grab a cup of coffee and catch up on what you've missed by clicking the bell icon to access your notification panel. From this central place you'll see reactions to your messages, @mentions in group conversations, or if someone quoted you. Jump to the conversation by clicking the message in the notification panel.
Chat Media Gallery: Looking for the link your bestie sent a few weeks ago? Quickly find shared content in the chat gallery. Just click Gallery to see media, links and files – you can even sort by type!
Find within Conversations: You can now easily find messages in the current conversation.
Skype for Web requires Microsoft Edge or Google Chrome browsers. You will also need to be on Windows 10 or Mac OSX 10.12 or higher to use Skype for Web. You can access the preview here.