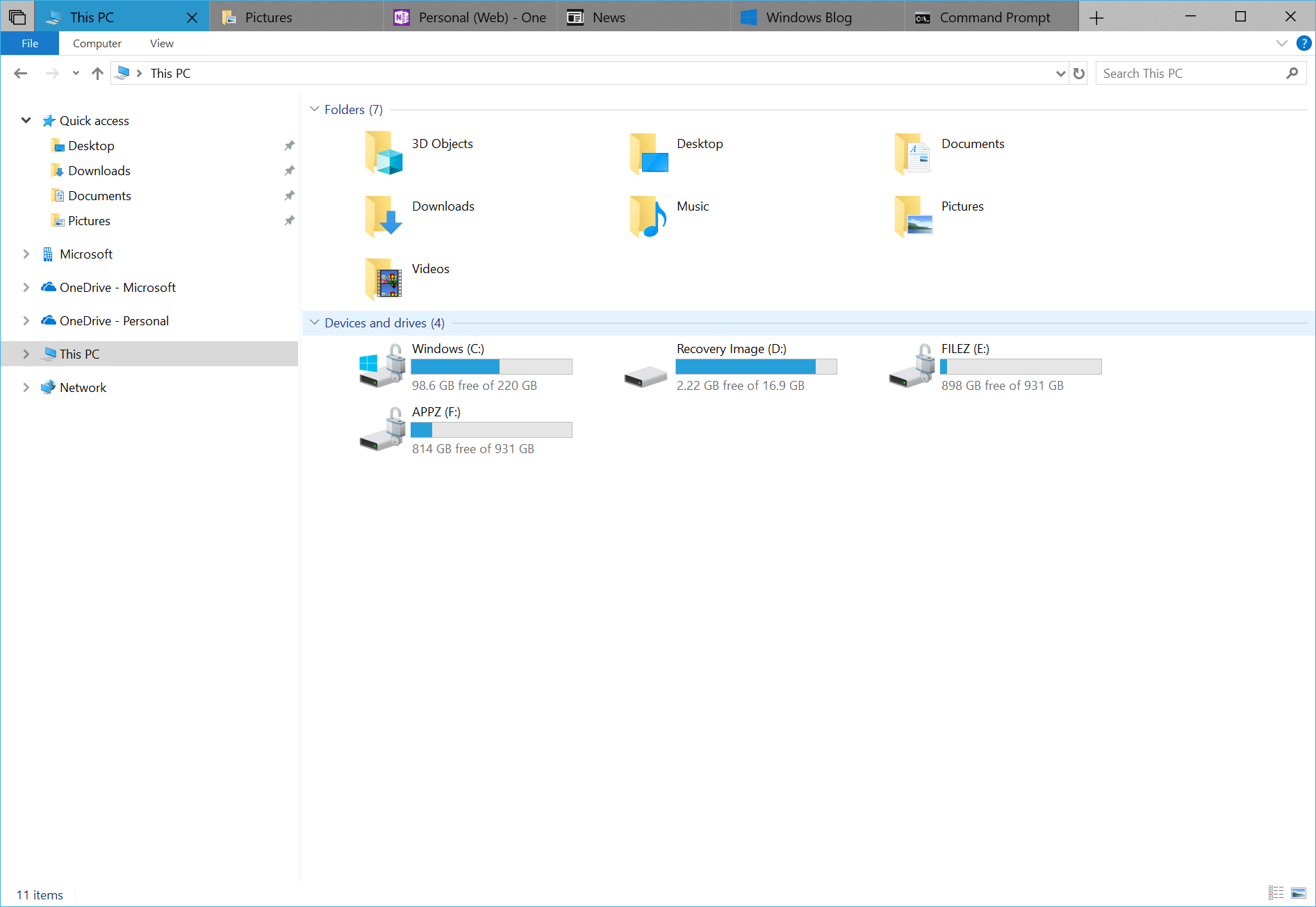 Microsoft today released Windows 10 Build 17618 (RS5) for Skip Ahead Insiders. With this build, Microsoft is bringing back Sets feature with many new improvements. The one I'm most excited about is the support for desktop (Win32) apps. The initial set of apps that will be support Sets include File Explorer, Notepad, Command Prompt, and PowerShell. Finally, Windows has got the tabbed File Explorer experience. This build also comes with following improvements to Sets.
You can now launch apps from the new tab page by typing the app name into the search box.
UWP apps are launched in the same window replacing the new tab page.
The tab UI in Sets now shows icons including website favicons and app icons.
Resume your project with more control – When restoring your projects you'll be prompted to restore related apps and webpages. In Timeline you'll see when a project has multiple activities associated with it.
You can try the following keyboard shortcuts to control Sets:
Ctrl + Win + Tab – switch to next tab.
Ctrl + Win + Shift + Tab – switch to previous tab.
Ctrl + Win + T – open a new tab.
Ctrl + Win + W – close current tab.
Microsoft also pointed out that the current Sets experience has some rough edges. They highlighted the below issues.
Tab drag-and-drop does not work for re-ordering tabs. You can't drag a tab to join another window.
When launching a supported desktop (Win32) app from a tabbed window, such as protocol/file launch or from the new tab page, it launches in a new window instead of auto-grouping to the existing window. You can work around this for now by holding down the Ctrl key while launching a supported desktop (Win32) app – note, for File Explorer, in particular, you will need to hold down Ctrl until the new tab with File Explorer appears, not just Ctrl + click and immediately release.
You may notice some flashes when switching between tabs within a Set.
If your display scaling is higher than 100%, using touch to interact with the Sets title bar won't work.
Apart from the Sets feature, this build also includes several general improvements and bug fixes. Read about them here.
Source: Microsoft