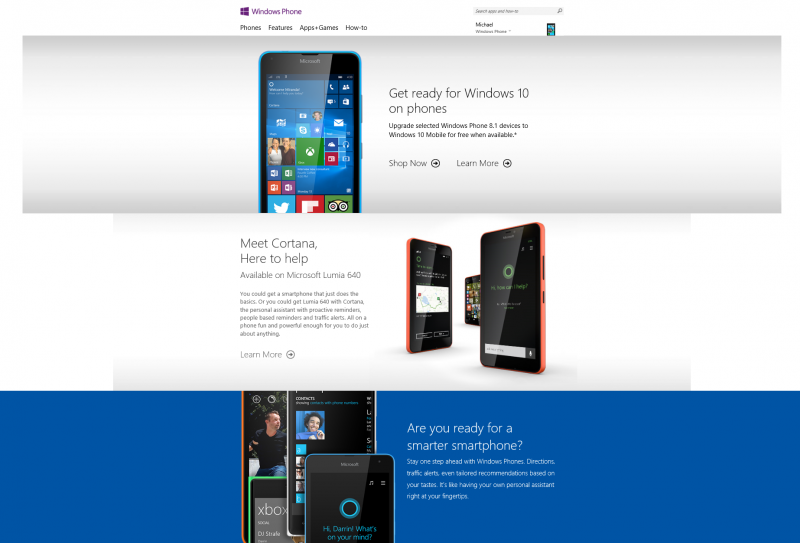 Microsoft has been making a lot of moves revolving around consolidation of its properties and removing duplicate features in the past year and a bit – especially when it came to Windows Phone and online properties. Starting with the retiring of the Windows Phone twitter account and then the Windows Phone support account, Microsoft now appears to be making moves to remove Windows Phone dot com as well.
Traditionally the Windows Phone site was a hub for information around Windows Phone, showcasing off phones, features, apps, how tos and even helping you manage your Windows Phone from the web. Over the course of the year, regular users of Microsoft web properties would have noticed that the firm has begun to deprecate the website in terms of features.
To start with, the "Phones" section of the site that used to link to a page which showed you every Windows Phone available for your region has been removed. It now sends you to Microsoft's mobile device page, away from the main Windows Phone hub to Microsoft's own site.
The apps  + games now links to Microsoft's universal store in all but a few regions, and the device management features have been offloaded to accounts.microsoft.com.
Currently, the only features left are the How to and feature pages, except that those two pages are on the verge of being removed as well. A hardcore searching session revealed that Microsoft is now putting help pages for Windows Phone 8.1 and 10 on the main Windows site.  We've already pointed out the Windows 10 mobile update history page as well which can be found at this pagewhen it goes live.
Most damning of all, while Microsoft pages like Lumia, Surface, Xbox et al have received a redesign in the wake of Windows 10, Windowsphone.com remains unloved, forgotten and now becomes useless every passing minute.