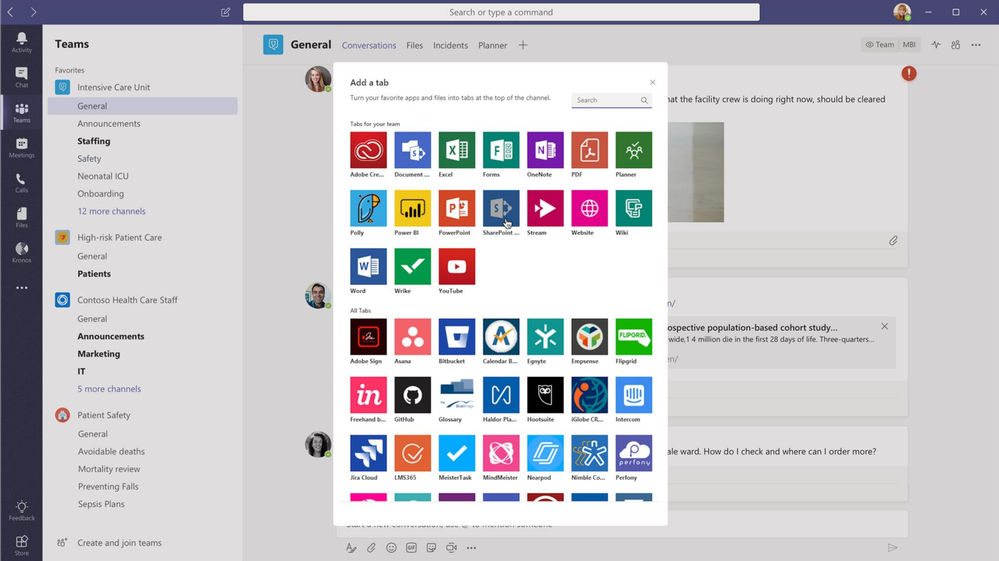 Microsoft is finally bringing the Teams app to the Microsoft Store. This new Teams app is a PWA app that takes advantages of the web platform improvements released in Windows 10 April 2018 Update. As a Store app, it is installed, updated and managed through the Microsoft Store. And it will also support the Narrator screen reader, and integrates with the Windows 10 Action Center. In this preview release, the Teams Store app will be only available for Windows 10 S / S-mode devices.
Microsoft today also announced the following new features for Teams.
Apps in Chat—coming soon to developer Preview, you can now update your app so that it can be used in private 1:1 and group chats. Your users can add a tab or chat with a bot in their private chats to light up new collaboration and sharing scenarios.
SharePoint pages in Teams—SharePoint is now even more deeply integrated into Teams—with the latest integration you can pin a SharePoint page in your channels to enable deeper collaboration around sites and other SharePoint content, and get the full power of the SharePoint app platform within Teams.
Teams App Studio – debuted in January in preview, Teams App Studio streamlines and automates the development process for creating Microsoft Teams apps by helping you to define your app's manifest through simple forms, In the next few months Teams App Studio will be able to save your app manifest in the cloud and provide in-app registration with Microsoft Bot Framework.
Adaptive card support—coming soon to developer Preview, you can now send rich Adaptive cards from your bot, connector, or messaging extension. Adaptive cards allow you to send more flexible content in conversations and are supported on other Microsoft platforms such as Outlook, Windows, and Cortana.
Files support for bots—coming soon to developer Preview, your bot can now send and receive files in 1:1 chats with users. Enable content and document scenarios such as expense reports, file management, and image processing.
For developers, Microsoft also announced the new Teams API in Microsoft Graph. These APIs can be used for creating and deleting teams and channels; adding and remove team members and owners; and updating team and channel properties.
Microsoft also announced the ability for enterprise companies to control access to custom Teams apps and distribute apps to users within their organizations by publishing to their company's catalog in the Teams app store.
Learn more these features in detail here.