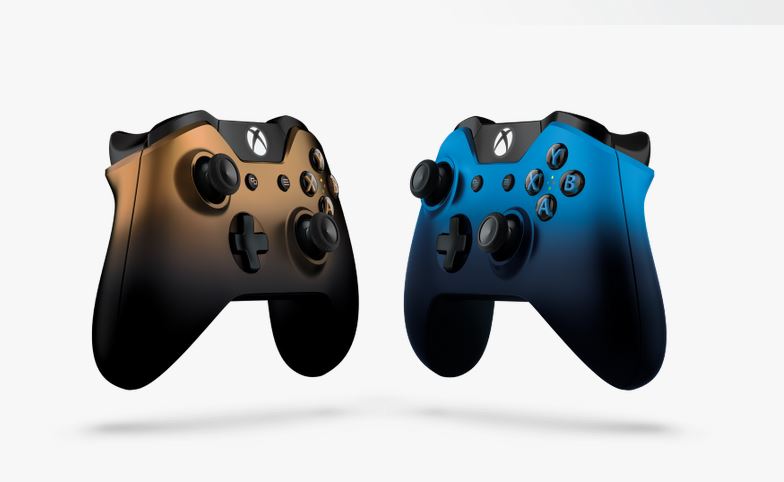 Microsoft today announced a new Special Edition shadow design series for Xbox One Wireless Controllers. The new controllers Dusk Shadow and Copper Shadow are now available for pre-order form Microsoft Store for $69.99 USD.
These new controllers feature a faded color gradient finish – blue-to-black for Dusk Shadow and copper-to-black for Copper Shadow – which is the first of its kind for Xbox One Wireless Controllers. They also come equipped with all the standard features of the Xbox One Wireless Controller, including Impulse Triggers, responsive thumbsticks, an enhanced D-pad, and a 3.5mm stereo headset jack.
Features
Faded blue metallic finish
Feel the action with Impulse Triggers. Impulse Triggers deliver fingertip vibration feedback so you can feel every jolt and crash in high definition
Ultimate Precision and Accuracy
Responsive thumbsticks and an enhanced D-pad provide greater precision
Triggers and bumpers are designed for quick access
Menu and View buttons quick for easy navigation
Now features a 3.5mm stereo headset jack that lets you plug your favorite gaming headset right into the controller
These controllers will also be available on store shelves at participating retailers in the U.S., Canada, Mexico, Chile, Colombia, Argentina, and Brazil later this month and in other select regions worldwide in April. In the U.S., the Xbox One Special Edition Copper Shadow Wireless Controller are exclusive to Microsoft stores and GameStop, and the Xbox One Special Edition Dusk Shadow Wireless Controller will be exclusively available at Microsoft stores and, for a limited time, Best Buy.