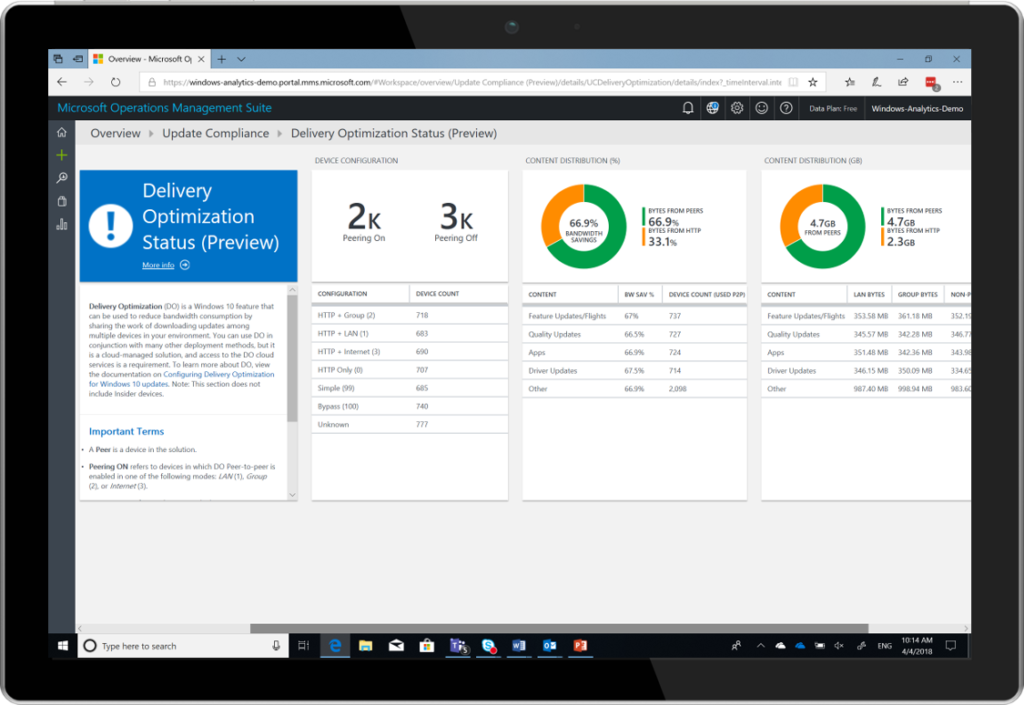 Along with the announcement about the upcoming Windows 10 April 2018 Update, Microsoft today announced new management capabilities and updates coming in Microsoft 365 that help will simplify IT management for organizations around the world. Read about them below.
A modern desktop:
With the Windows 10 April 2018 Update, Microsoft is releasing Delivery Optimization enhancements which will allows one device to download an update and then use the local network to deliver that update to other PCs connected in that network. This feature will save tons of network bandwidth for the enterprise. This feature can be monitored through Windows Analytics.
The new Readiness Toolkit for Office (RTO) helps with Office VBA, Macro, and add-in compatibility. The Application Health Analyzer (AHA) tool can be used to assess the dependencies of internally developed apps and help enterprise im maintaining compatibility with Windows 10 updates. Public preview of the tool will be releasing in the coming months. Microsoft today also announced the Office 2019 Commercial Preview of Word, Excel, PowerPoint, Outlook, Publisher, Access, Project, Visio and OneNote for Windows 10.
Solutions for Firstline Workers:
Microsoft is extending the assigned access capabilities for Windows 10 allowing organizations to deploy and manage kiosk devices with Microsoft Intune for your single or multiple app scenarios. Microsoft is also planning to release new Kiosk Browser app in Microsoft Store that will deliver a reliable and custom-tailored browsing experience for scenarios such as retail and signage.
With the Windows 10 April 2018 Update, Windows 10 Enterprise can be configured in S mode, so organizations can deploy both Credential Guard and Application Guard, and benefit from centralized management of the Microsoft Store, Cortana, and more. All of this is available with a Microsoft 365 subscription.
Microsoft is also simplifying the licensing process for Office mobile apps for iOS and Android. With this update, users licensed for Microsoft 365 and Office 365, including Firstline Workers, will be able to use the Office mobile apps. Outlook for iOS and Android is available to users now. Microsoft will be bringing Word, PowerPoint, Excel, and OneNote mobile apps over the next few months.
Streamlined device management with lower costs:
With the Windows 10 April 2018 Update, Microsoft is bringing enrollment status page to Windows AutoPilot that can be used to ensure policies, settings, and apps can be provisioned on the device during that out-of-box experience before the user gets to the desktop and begins interacting with the device.
Along with Dell and Lenovo,  HP, Toshiba, Panasonic, and Fujitsu will be bringing PCs with Windows AutoPilot this fall.
Integrated administration experience:
Microsoft is expanding the integrated admin experience to Office 365 users. With this update, users of both Office 365 and Microsoft 365 will now have access to the same admin center with the same capabilities.
Built-in compliance:
Through the Microsoft 365 Security & Compliance Center, admins can import data for retention and content discovery, as well as across cloud services. Microsoft highlighted the following new features added to the Microsoft 365 Security & Compliance Center recently.
A new Data Privacy tab that gives you the ability to execute Data Subject Requests as part of the fulfillment requirements for the General Data Protection Regulation (GDPR).
Privileged Access Management that allows you to prevent standing admin privilege by providing just-in-time access for admin roles and tasks in Microsoft 365.
Multi-Geo Capabilities in Microsoft 365 that give you control over where your data resides at a per-user level based on your global data location and compliance needs.
New Advanced Data Governance controls for event-based retention and disposition.
Source: Microsoft