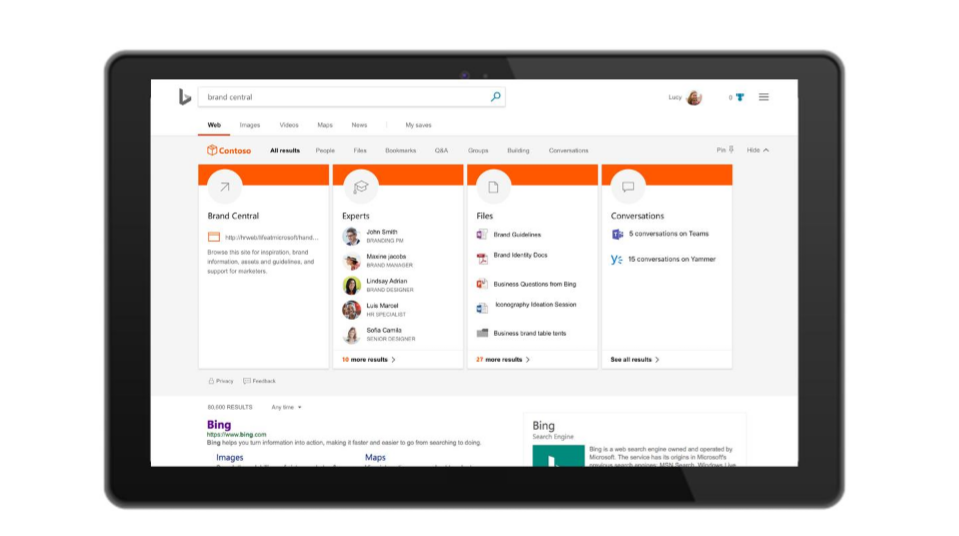 At Ignite 2018, Microsoft first announced Microsoft Search, a new organizational search experience that will be available across Microsoft Teams, Yammer, SharePoint, OneDrive, Office, Windows, and Bing. At Build 2019, Microsoft today announced the general availability of Microsoft Search.
Microsoft Search will allow you to find documents and data from both inside and outside the organization without leaving the flow of work. Microsoft Search is powered by the Microsoft Graph and AI technology from Bing.
The following Microsoft Search experiences are now available for customers:
Search will move to a prominent consistent place across the apps you work with every day. From Outlook to PowerPoint, Excel to Sway, OneNote to Microsoft Teams, Office.com to SharePoint, the search bar will be in the same place—across desktop, mobile, and web.
Personalized results as soon as you click in the search box, such as people you share with the most and documents you were working on recently. No query is required to get suggestions.
The search box itself will also command the application where you are working. For example, begin typing 'acc' in Word to get list of suggested actions such as Accept Revision or Accessibility Checker. You no longer need to hunt through toolbars to look for a command.
Search results will include results from across your organization. For example, within Word, you can find not only other Word documents, but also a presentation you were working on. You can navigate straight to that presentation or you can choose to incorporate slides from that file directly into your document.
Extending that same organizational search experience wherever you are working—in Bing.com (when signed in with your Office 365 account), Edge or Windows. Search wherever you want to and get the same experience.
Unified administration of your organizational search results, including admin curated results such as bookmarks.
Learn more about Microsoft Search here.