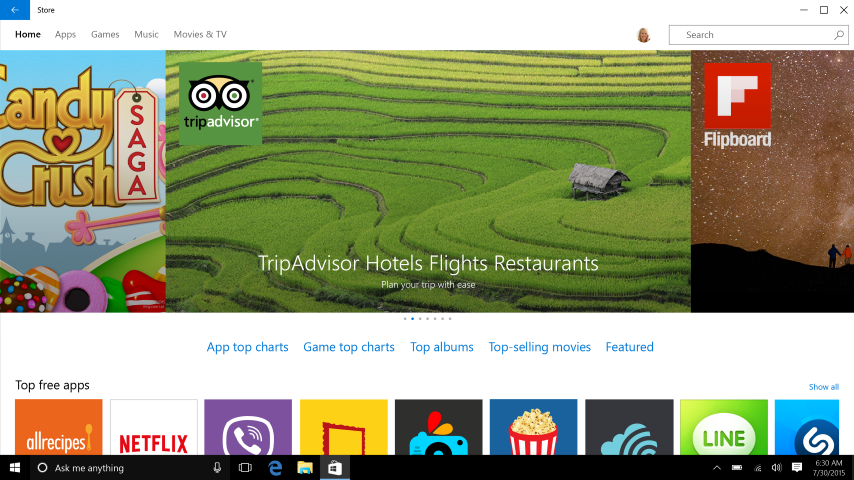 Microsoft has recently removed the ability for admins to block Windows Store access in Windows 10 Pro through Group Policy. Microsoft has mentioned in a support article that this behavior is by design.
On a computer that's running Windows 10 Pro, you upgrade to version 1511 of Windows 10. After the upgrade, you notice that the following Group Policy settings to disable Windows Store are not applied, and you cannot disable Windows Store:

Computer Configuration>Administrative Templates>Windows Components>Store>Turn off the Store application

User Configuration>Administrative Templates>Windows Components>Store>Turn off the Store
In Windows 10 version 1511, these policies are applicable to users of the Enterprise and Education editions only. Admins can still block Windows Store with AppLocker by creating a rule for packaged apps.
How to block Windows Store using AppLocker:
Type secpol in the search bar to find and start AppLocker.
In the console tree of the snap-in, click Application Control Policies, click AppLocker, and then click Packaged app Rules.
On the Action menu, or by right-clicking on Packaged app Rules, click Create New Rule.
On Before You Begin, click Next.
On Permissions, select the action (allow or deny) and the user or group that the rule should apply to, and then click Next.
On Publisher, you can select Use an installed app package as a reference, and then click Select.
On Select applications, find and click Store under Applications column, and then click OK. Click Next.

Create a rule for packaged apps has more information on reference options and setting the scope on packaged app rules.

Optional: On Exceptions, specify conditions by which to exclude files from being affected by the rule. This allows you to add exceptions based on the same rule reference and rule scope as you set before. Click Next.
Microsoft provided the following statement regarding this design change,
Microsoft is focused on helping enterprises manage their environment while giving people choice in the apps and devices they use to be productive across work and life. Windows 10 Enterprise is our offering that provides IT pros with the most granular control over company devices. Windows 10 Pro offers a subset of those capabilities and is recommended for small and mid-size businesses looking for some management controls, but not the full suite necessary for IT pros at larger enterprises.The ability to block access to the Windows Store is typically for organizations who want more control over corporate-owned devices. This fits into the value of Windows 10 Enterprise.
Basically, Microsoft recommends buying Windows 10 Enterprise to have granular control for Admins. What do you think of this design change?