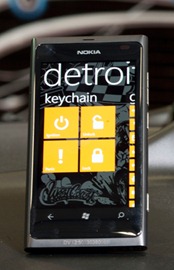 Sometimes Microsoft marketing takes things a bit off the beaten track.  Yesterday Microsoft officially unveiled codename "Project Detroit," a concept car created to inspire developers to think about building apps and automotive technologies of the future.
The American classic car incorporate Kinect for Xbox 360, Xbox 360, Windows 8, Windows Phone, Windows Azure, Bing, Ford Sync and more.
To create Project Detroit, a 2012 Ford Mustang with a 1967 fastback body, Microsoft teamed up with Ryan Friedlinghaus, an award-winning automotive designer based in Corona, Calif., and star of the Discovery Channel's Velocity network reality TV series "Inside West Coast Customs."
The car features a custom Windows Phone application which can change the accent lighting and the horn sound "ringtone", activating the "projector screen" or send a message to the rear windshield. It also has Viper SmartStart technology , so it can be remotely located, unlocked and started all from a Windows Phone.
The car also allows one to stream video from the Kinects included in the dashboard to your Windows Phone, and, from the same application, use your Windows Phone as a microphone for the car's external audio PA system.
Click for full-size
Project Detroit's front and rear Kinect cameras also transmit a live video feed of surrounding pedestrians and objects directly to the interior dashboard displays.
The show featuring the Mustang will be broadcast on Sunday, March 25 at 6 p.m. PDT (9 p.m. EDT).
See more pictures at Microsoft here.