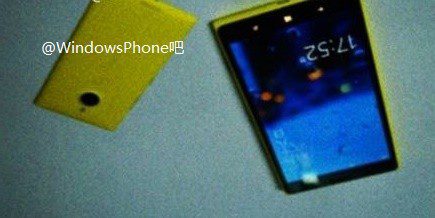 We have seen some rather ridiculous rumours recently of 2K Windows Phones coming soon.  Here is a much more believable rumour from China.
WPBar.cn received  some information about a Mini Lumia 1520 called the Lumia 1520V.
The handset will retain much of the specs which makes the 1520 great. It will have a 4.3 amoled 1080p screen,  2G Ram+32G Rom (without SD Card support),3000mah battery,Pureview 14 megapixel and wireless charging support.
It is not known if the handset will retain the quadcore processor, but given the needs of the 1080P screen this seems likely.
The handset is said to launch after the release of Windows phone 8.1 in April, and may be an international version of the Nokia Lumia 929/Icon.
See the picture posted above for a glimpse of the handset posted in China's twitter.
Would our readers prefer this much smaller handset over the Nokia Lumia 1520? Let us know below.