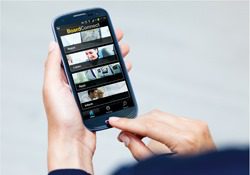 It should not be, but it is still news when a new service supports Windows Phones from the get-go.
Such a new service is Lufthansa's new inflight movie system, which will use technology by Boardconnect to stream movies directly to iOS, Android and Windows Phone handsets.
The system will be installed in 20 of its Airbus A321 aircraft by this summer and will use an on-board server and WIFI, and a special app which users will have to download before the flight.
It is noted that streaming to handheld devices instead of back of the seat-based screens have a number of advantages, including the quality, location, angle and size of the screen and a more intuitive user experience.
"We are making BoardConnect available on Windows 8 to give passengers even more choices to use the platform," said Norbert Müller, senior vice president of BoardConnect at Lufthansa Systems. "This makes it easy for airlines to give their passengers a superior in-flight entertainment experience that allows them to watch a wide range of movies, look at flight information and shop, all from their seat."
The growing number of Windows Phones in use should ensure in the future the App Lag issue will become less and less of an issue.
See a video describing the service after the break.
Via CNET.com