Lenovo knows that most tablets end up just taking up shelf space, and has designed its two latest Android tablets to actually do something useful when you are not using them.
Besides their usual role as Android tablets, the Yoga Smart Tab and Lenovo Smart Tab M8 transform into smart home hubs powered by Google Assistant's Ambient Mode.
For those after a dedicated smart speaker Lenovo also refreshed the Lenovo Smart Display with a new, more compact screen 7 inch screen, made to fit nearly anywhere in your home.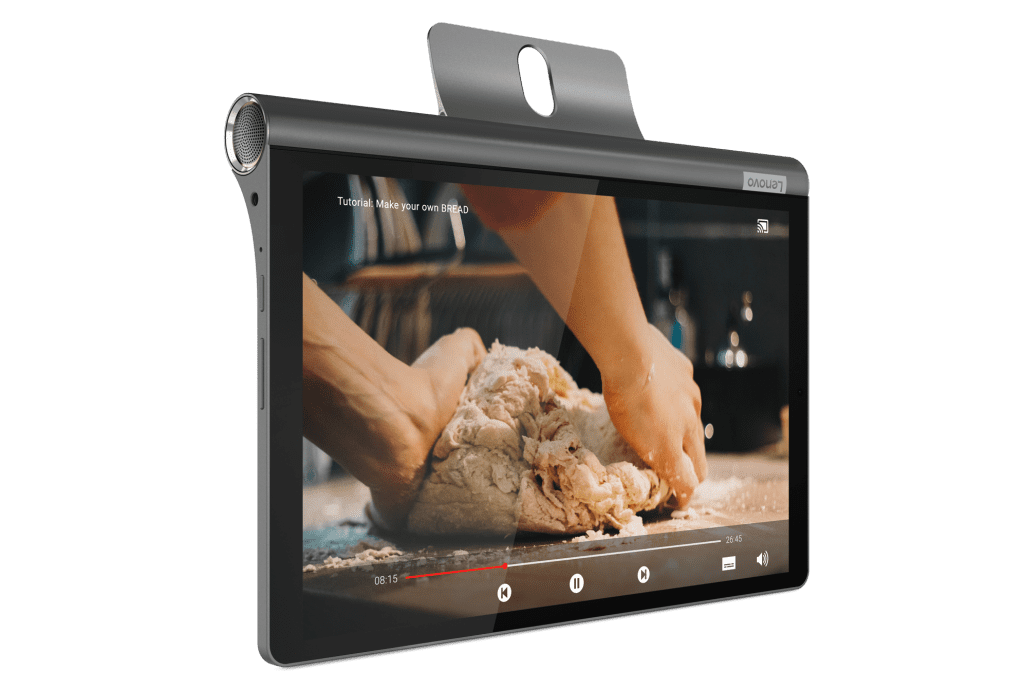 The Yoga Smart Tab features rich, clear audio capabilities and a 10.1-inch FHD display with multi-user functionality and its Smart Charging Station transforms it into an always-on smart home hub that's a great fit for multi-generational families.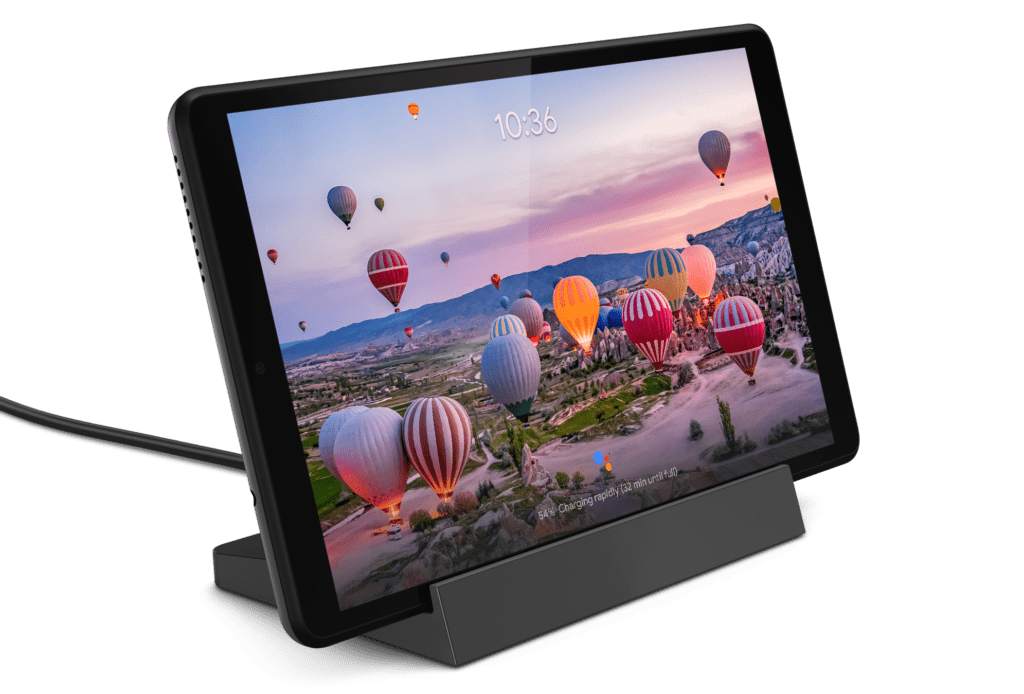 Lenovo notes that user feedback and consumer research consistently reveal that while portable tablets are often used on the go, they can sit unused for more than 23 hours a day if left at home. In fact, many households forget to charge their tablets, eventually leaving them unused and abandoned. Contrast this with smart home devices such as the Lenovo Smart Display and Lenovo Smart Clock, which are always on, always plugged in and always available. With the rising adoption of smarter homes, tablets can now increase their latent potential as smart screens to help control your smart home, play video and music, and answer questions – all hands-free.
Yoga Smart Tab with the Google Assistant – the Ultimate Entertainment Tablet just got Smarter

As the successor to the Yoga Tab 3 series, the Yoga Smart Tab pairs smart home hub optimization with the features that made the Yoga Tab a popular entertainment tablet. It combines top-of-the-line audio and video capabilities with a signature multi-modal Yoga kickstand that allows you to tilt, stand, hold or hang their tablets. That means you can stand, sit, recline or lie down while using the Yoga Smart Tab, and still get a full experience at virtually any angle.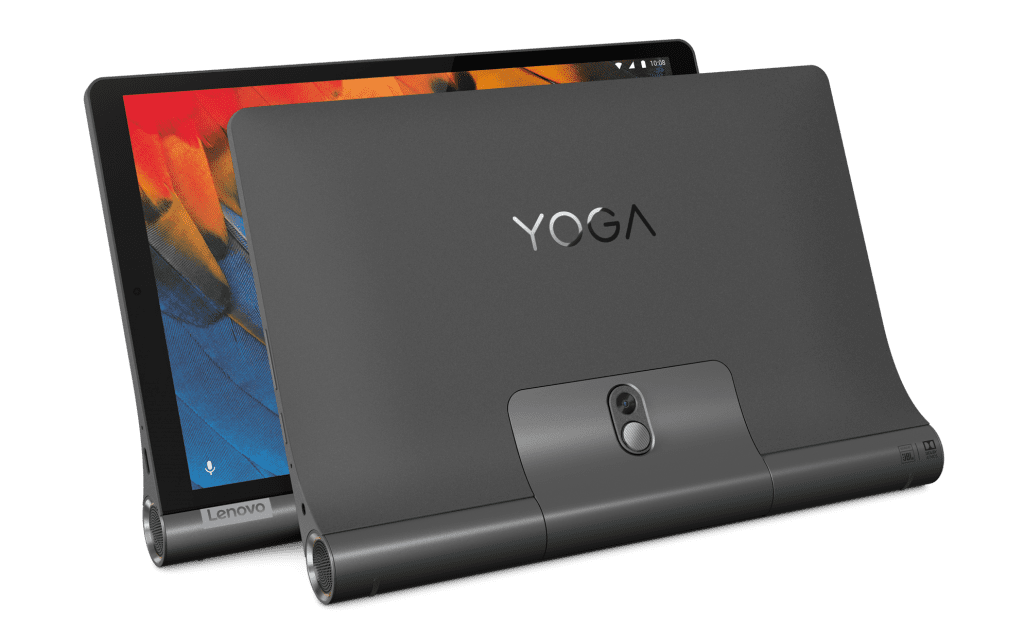 Designed using metal and aluminum, the Yoga Smart Tab looks and feels meticulously handcrafted, coated with a soft-touch matte finish.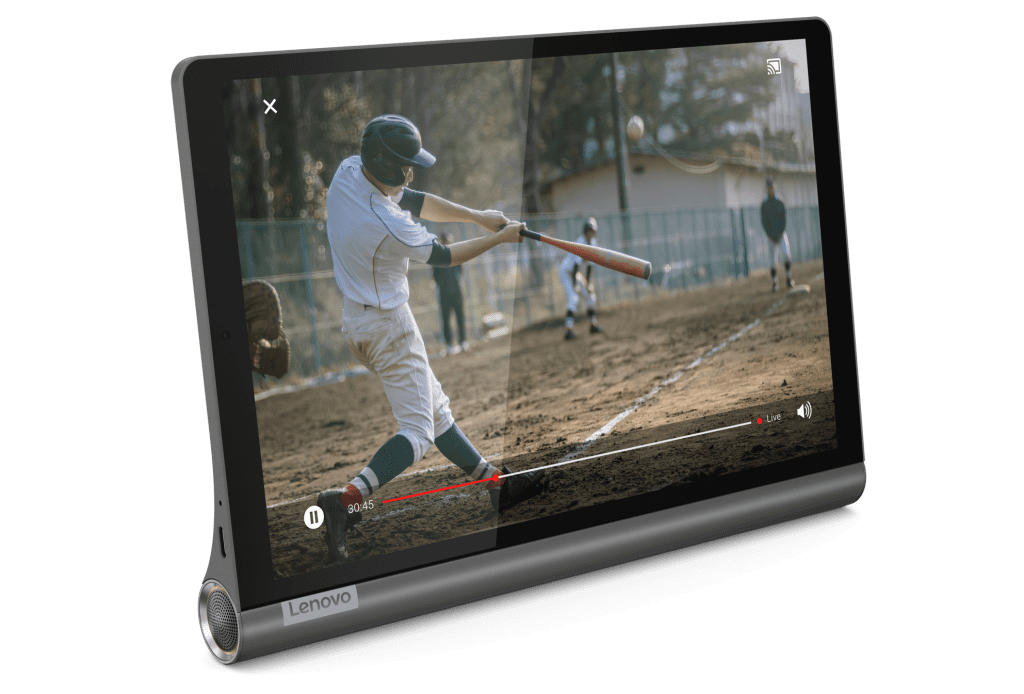 The Yoga Smart Tab is an ideal tablet to binge-watch your favorite shows, delivering a crystal-clear viewing experience from nearly any angle or distance with its 10.1-inch FHD IPS display. The latest display and light, in-cell TDDI (Touch and Display Integration) technologies also boost immersion and touch interactivity, while engineered to reduce eye fatigue. The listening experience comes via powerful dual JBL® Hi-Fi speakers reinforced by smart power amplifiers optimized with Dolby Atmos®, delivering moving audio that flows all around you.
With the Google Assistant's Ambient Mode, you can transform your Yoga Smart Tab into a beautiful digital photo frame, control your music and smart home devices, and quickly access important updates. To automatically activate the Ambient Mode, press the release button on the Yoga kickstand when the device is idle. Three digital mic arrays and 360-degree far-field voice recognition can then pick up on your voice from across the room.
Lenovo Smart Tab M8 with the Google Assistant – a Quintessential Household Tablet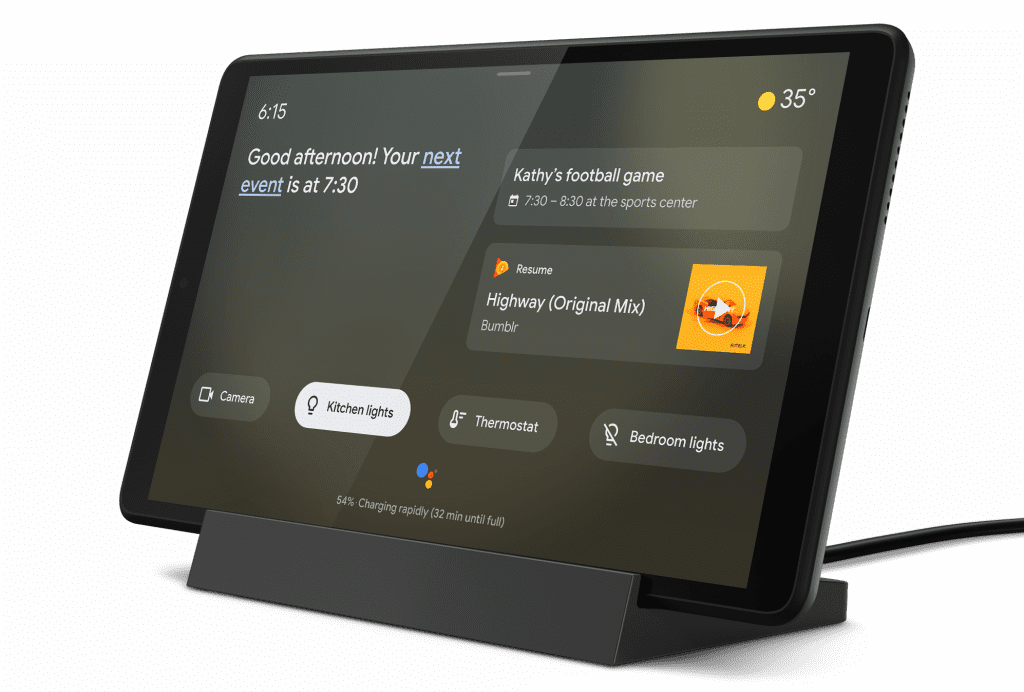 With the Lenovo Smart Tab M8, families finally have a quintessential multiple-use household device—a shareable tablet for adults and kids that also doubles as an always-on smart home hub. Dock in the tablet into its Smart Charging Station to transform it into a smart home device featuring hands-free far-field voice recognition from across the room through high-performance dual MEMS (microelectro-mechanical systems) microphones.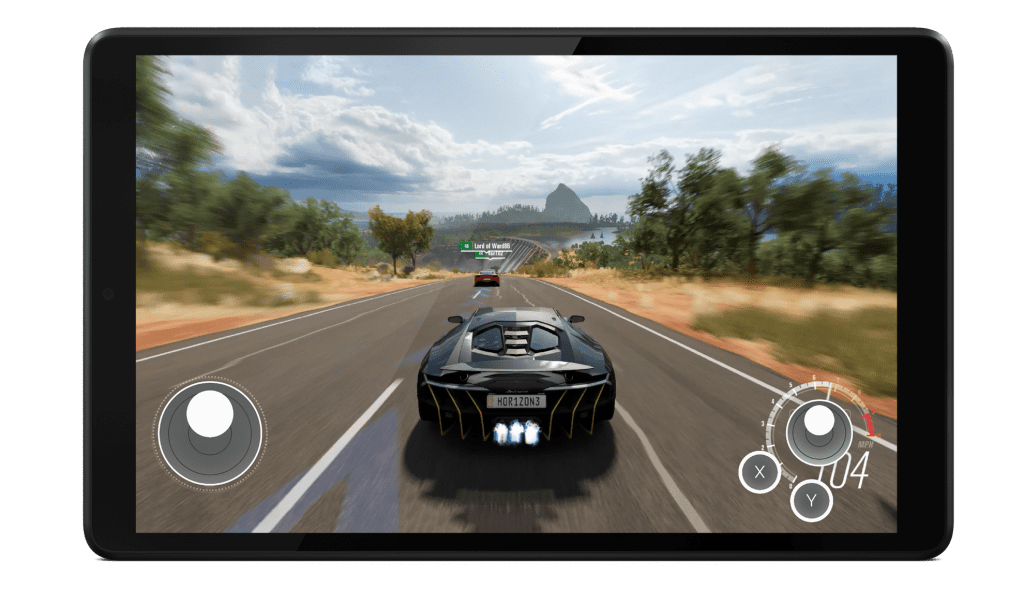 Built for ease of sharing, the Lenovo Smart Tab M8 is a media tablet that's designed for every family member, with a fast Quad-Core 2.0Ghz processor and 5GHz Wi-Fi support. And with multiple user accounts enabled by facial recognition or multiple PINs to determine who's using the device, users can unlock their own specific user account with dedicated profiles, wallpapers, applications and storage.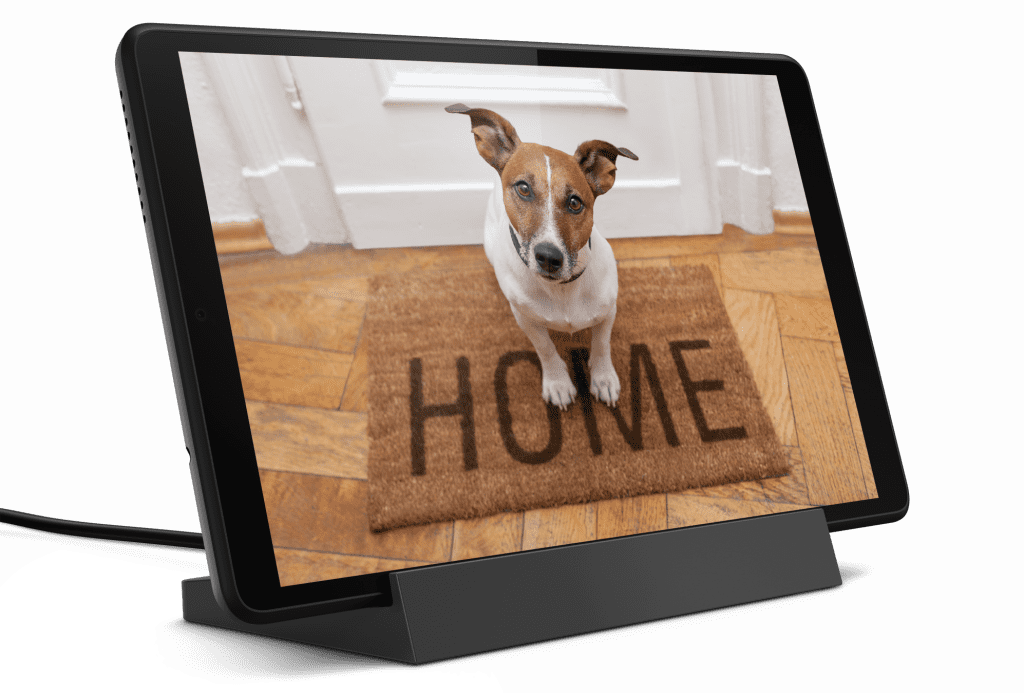 And the Lenovo Smart Tab M8 can fit seamlessly into any home, with a premium full-metal cover and narrow bezels that are designed to complement modern home decor. Built for multiple uses and settings, the Lenovo Smart Tab M8 won't look out of place in the living room, kitchen or study, either as a tablet or smart home hub.
Lenovo Smart Display 7 – A Popular Design gets an Upgrade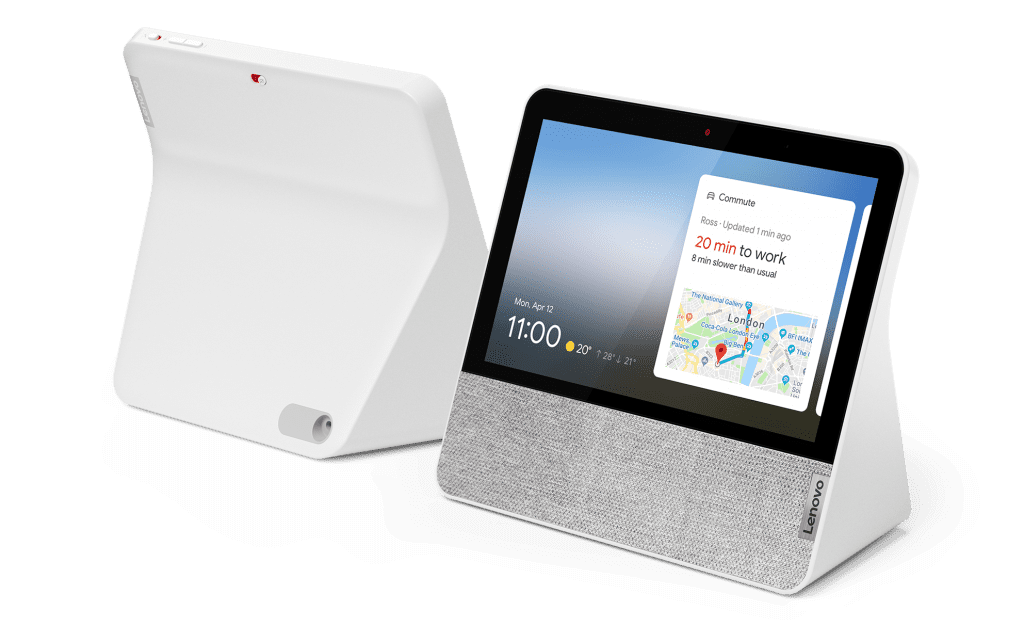 For those who want a compact voice assistant, the Lenovo Smart Display 7 is compact and flexible, blending anywhere while offering all the Assistant visual features you'd expect on a smart display, on a 7-inch SD touchscreen.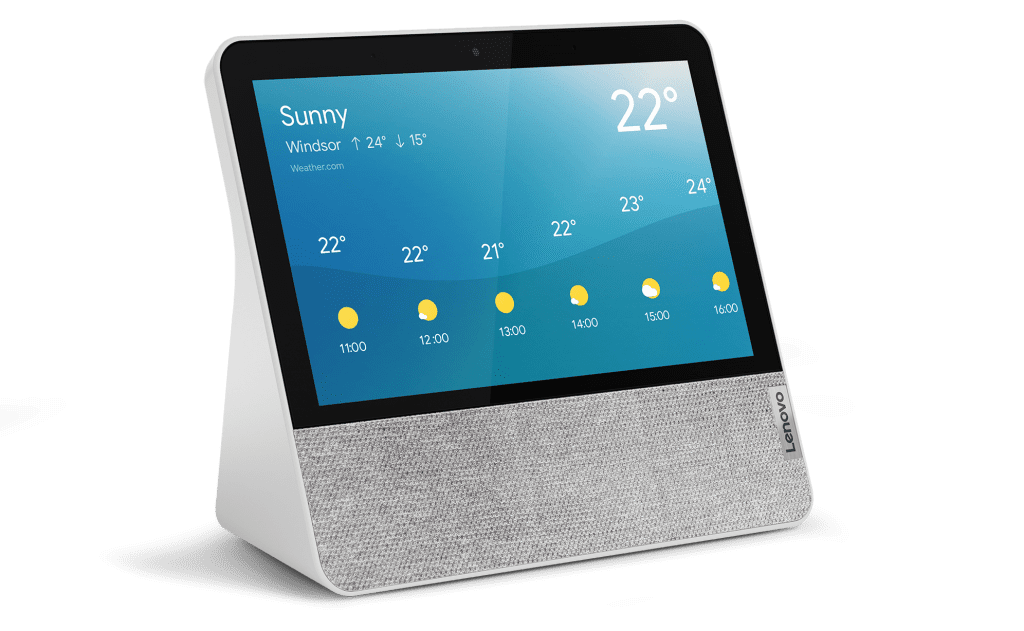 Compared with its predecessors, the Lenovo Smart Display 7 now sports thinner bezels as well as an ambient light sensor for better, more realistic photos.  Lenovo also added front-facing left and right speakers for stereo separation, housed in a larger chamber to deliver more audio resonance. The Lenovo Smart Display 7 also features a TrueBlock Privacy Shutter and a physical mute button, for added privacy when you need it.
Pricing and Availability
EMEA:
Lenovo Smart Tab M8 starts at €149 (VAT included) and is expected to be available starting in October 2019 on lenovo.com and select retailers.
Lenovo Yoga Smart Tab starts at €299 (VAT included) and is expected to be available starting in September 2019 on lenovo.com and select retailers.
Lenovo Smart Display 7 starts at €129 (VAT included) and is expected to be available starting in October 2019 on lenovo.com and select retailers.