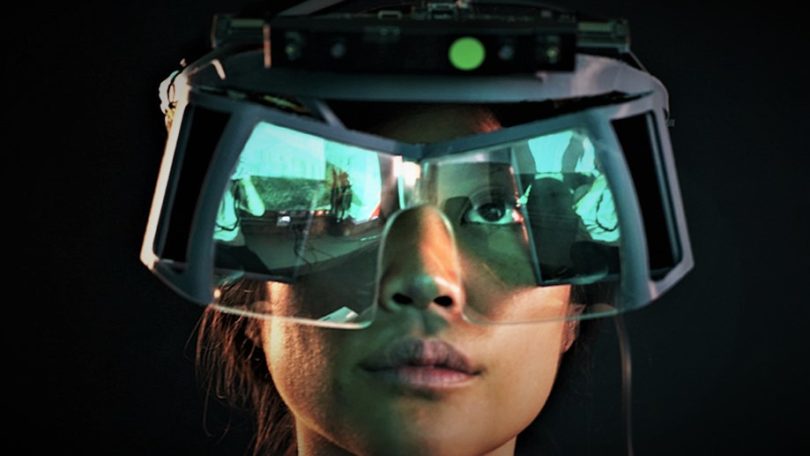 Leap Motion has created and released an open source augmented reality headset which would theoretically compete with Microsoft's HoloLens and which relies in large part on their very accurate hand-tracking environmental sensor.
Now the company has posted a demonstration which shows how accurate and responsive the system is, enough to accurately play a simulated table tennis game against a virtual opponent.
The Leap Motion's AR headset features two ultra-bright, low-persistence 1600×1440 displays pushing 120 frames per second with a large visual field over 100 degrees in diameter.  It may also eventually feature:
Inward-facing embedded cameras for automatic and precise alignment of the augmented image with the user's eyes as well as eye and face tracking.
Head-mounted ambient light sensors for 360-degree lighting estimation.
Directional speakers near the ears for discrete, localized audio feedback
Electrochromatic coatings on the reflectors for electrically controllable variable transparency
Micro-actuators that move the displays by fractions of a millimetre to allow for variable and dynamic depth of field based on eye convergence.
Leap Motion says their headset offers best-in-class field-of-view, refresh rate, and resolution, and has proven to be an exceptional platform for representing high-speed motions with small objects. They believe the technology could be used in virtual training to eventually apply to real-world situations.
In theory, you can build your own Project Northstar headset, with more detail to be found here.
Microsoft is expected to release their own next-generation Mixed Reality headset themselves this year, which will also feature an upgraded environmental sensor based on the Kinect sensor package and improved computing capabilities due to a new Holographic Processing Unit.