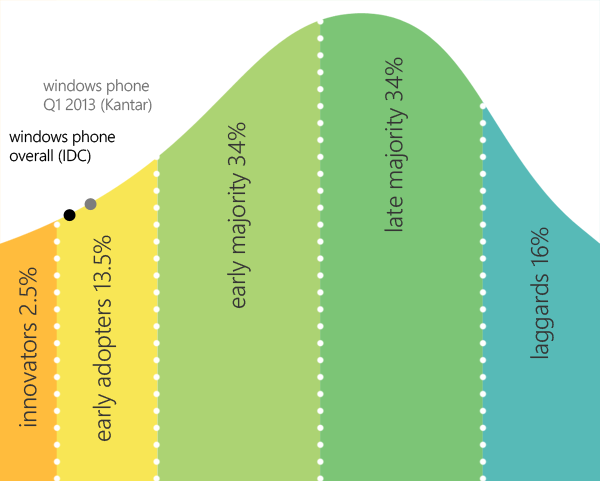 In an essay on the Verge forums RobbCab explains why Windows Phone is about to take off.
He notes that according to the "law of diffusion of innovation" consumers are divided into 5 different groups; the innovators, who bought Windows Phone in the early years, the early adopters, who have started sampling the OS now, and have taken its market share now rapidly up to 6.5% in the 5 biggest European markets and 5% in USA, and then the early majority, late majority and laggards.
Windows Phone has made significant progress climbing the ladder, and adoption should really sky rocket once Windows Phone grows above 15% market share, which Robb expects will happen by Q1 next year.
I suspect that is a bit too optimistic, but Robb notes that Microsoft is prepared to fund the project till it does reach that ignition point, a luxury a company like Blackberry and Firefox OS does not have.
He summarizes his theory as below:
Nokia Lumia sales up 27% to 5.6 million in Q1 and projected to increase another 27% in Q2 to ~8 million. Nokia now has very solid offerings in both the premium and budget smartphone segments.
High-end Windows Phones now on or coming to all major U.S. Carriers this summer
Explosive growth on Verizon without a true flagship. Year on Year quarterly sales went from 0.2% of sales to 5.1% and they now have the Lumia 928.
Windows Phones accounted for 6.5% of smartphone sales in the five biggest EU markets in Q1 (up from 4.1%). Only Windows Phone and Android sales grew Year on Year.
The law of diffusion of innovation suggests once Windows Phone hits ~15% of quarterly sales and then 15% of total market penetration, it will gain mass acceptance.
Read Robb's full and somewhat convincing assay at the Verge here.
Via Reddit.com